Editor's note: As part of our summer schedule, Dateline will take the next two weeks off before resuming regular publication on Sept. 11.
— the Dateline staff
Spotlight on…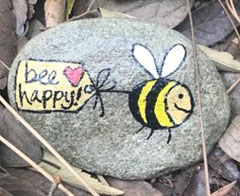 Two staff members, backed by a growing corps of volunteers, are spreading color, creativity and kindhearted messages around campus with vibrantly painted rocks. [ More… ]
NEWS SUMMARY
ICYMI: Aggie Square, Money
Boots laced, water bottles filled, trail map in hand. Get ready folks, we'll soon be setting out on UCPath, the modern payroll, benefits, human resource and academic personnel solution that will replace the 38-year-old PPS. [ More… ]
"With more than 6,900 responses (to our customer satisfaction survey last year), we're able to see some clear-cut areas where we can improve services for faculty and staff," says Kelly Ratliff, vice chancellor of Facilities, Operations and Administration. Indeed, FOA is making good on its promise to act on the survey results. [ More… ]
It's to announce Ann Hedrick's election as a fellow of the Animal Behavior Society. An adjunct professor of neurobiology, physiology and behavior, she's been studying the field cricket Gryllus integer for more than 30 years. … STEM for Girls is the recipient of a 2018 Inspiring Programs in STEM Award from Insight Into Diversity magazine. … Plus, meet our "ACE" communicators for 2018. [ More… ]
We're listing them, 558 in all, from the Davis and Sacramento campuses, along with words of appreciation from Chancellor Gary S. May and photos from the New Retirees Celebration. [ More… ]
Lack of climate change adaptation among water utilities can put water supplies and the people dependent on them at risk, especially in marginalized communities, new research from UC Davis suggests. [ More… ]
TECHNEWS: Banner, Duo and EndNote
So far this year, Unitrans has done its part to "Spare the Air" 19 days, waiving fares for all passengers. Unfortunately, Unitrans can no longer spare the expense and will discontinue the free-ride program from Monday, Aug. 27, through the end of the year. Plus …
Firefighters join wildfire efforts again
Bear recovering after burn treatment
Road work: La Rue and Hutchison
Medical center among best of the 'Best'
UCOP makes annual payroll disclosure
Gunrock American Lager — an officially licensed UC Davis beer — will be available in cans starting next week, with a portion of proceeds benefitting UC Davis Athletics. ... Wine from two alumni-founded wineries celebrates two longstanding traditions. [ More… ]
ANNOUNCEMENTS
Town halls to aid in search for vice chancellor of Diversity, Equity and Inclusion — The recruitment advisory committee will hold three town halls Sept. 27 — two on the Davis campus (morning and afternoon) and one on the Sacramento campus (midday) — to gather opinions from members of the campus community, about the qualities we should be looking for in candidates and our expectations of the recruitment.
Road closure — Tercero Hall Circle is closed to all through traffic (vehicular and bicycle) through Sept. 17 for construction activities related to the Tercero Dining Commons 2 project.
3 weeks of Editor's Picks from the online calendar: