Spotlight on…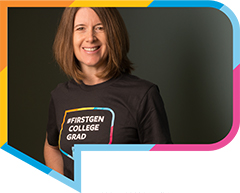 Nearly 400 faculty members are sharing their "first-generation" stories to offer encouragement and help to the 40 percent of undergraduates who also are first-gen in college. [ More … ]
NEWS SUMMARY
Gary S. May delivers his first major address as UC Davis' new chancellor on Monday (Sept. 25), saying he is honored to be leading "a university with so much going for it" — including academics and research, and commitments to diversity and equal opportunity, freedom of expression and contributing to the social good. And there is so much more to come, he said in his "Future Forward" speech. [ More, with videos … ]
Following a national search, Chancellor May selects Dana Topousis to be UC Davis' chief marketing and communications officer, effective Oct. 1. [ More… ]
President Janet Napolitano says policies and procedures related to sexual violence and sexual harassment will remain in full effect despite changes at the federal level. [ More… ]
3 things to know as we start the new year
Campus visitors can sign up to receive emergency notifications, and our Lake Tahoe and Bodega Bay research centers can send their own alerts. Safety Services also announces a number of emergency preparedness events this fall, including a WarnMe test Nov. 9. [ More… ]
A law professor's talk next week on "Trans Rights and Fights in the Time of Trump" is among the first programs in the 2017-18 Campus Community Book Project. Lectures, films, an exhibition, and book club meetings and other discussions are planned through February in connection with Redefining Realness: My Path to Womanhood, Identity, Love & So Much More, by Janet Mock. [ More… ]
Grounds and Landscape Services is definitely keeping up the good work, earning reaccreditation from the Professional Grounds Management Society, in recognition of landscaping management and operations. Plus … accolades for faculty members Stacey Harmer, Frank Zalom, H.L. Shivaprasad, Steven George and Marie Heffern. [ More… ]
Research by psychology professor John Henderson shows that people's vision is drawn to "meaning" rather than salient (or things that "stick out"). [ More… ]
The Recreation Pool will soon close down for a year, to be transformed into a complex of two pools, one for recreation, the other to be open year-round for lap swimming, sport clubs and intramurals. Plus …
Now available: Campus police, fire, security reports
Shaun King to speak on 'The New Civil Rights Movement'
Gary and LeShelle May lead a team of campus deans and vice chancellors who help move new students into residence halls. ... Thousands of students are welcomed to campus. ... Our kickoff tee-retrieving dog is featured on ESPN. [ More, with video… ]
ANNOUNCEMENTS
The Mondavi Center for the Performing Arts and the Staff and Faculty Health and Well-Being Program are partnering for the second year in a row to offer $10 tickets monthly for select shows, starting with Dorrance Dance, a tap-dance company, Sunday, Oct. 29. [ More… ]
Editor's Picks from the online calendar:
Opening Celebration for Chicanx-Latinx Student Center
Wednesday, Sept. 27: Aztec dance, mariachi music and contemporary Latin dance, on the Memorial Union's South Patio, followed by a ribbon cutting at MU II.
Opening Receptions for Fall Exhibitions
Thursday, Sept. 28: Dimensions of Black and John Cage's 33⅓ at the Jan Shrem and Maria Manetti Shrem Museum of Art.
Friday, Sept. 29: Land, Water and Rock, photography by Denbal Sen.
Aggie Football vs. North Dakota
Saturday, Sept. 30: Kickoff Street Party, 3 p.m.; game starts at 6.