Spotlight on…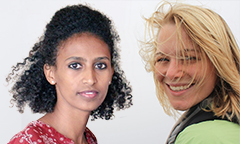 A year after researcher Sharon Gray's tragic death in Ethiopia, memorial contributions totaling nearly $160,000 are funding scholarships and more in tribute to her dedication to mentoring. Projects include an exchange program that brought Ethiopian scientist Sara Gebremeskel to UC Davis for training — something that Gray had wished for in the days before she died. [ More… ]
NEWS SUMMARY
This Thursday (Nov. 9), the campus-city transit system goes "Back to the Future" for a re-creation of sorts of the bus christening held in 1967. Special guest Lola Hogan '69 will bust a bottle of beer on a London double-decker just like she did 50 years ago. [ More… ]
Cognivive, co-founded by UC Davis neuroscientist Tony Simon, develops video games to treat cognitive impairment — and is among the 22 startups selected to be in the inaugural University Innovation and Entrepreneurship Showcase, Nov. 13-14. [ More… ]
Digital storytelling project — the work of faculty and students from UC Davis and El Colegio de la Frontera Norte in Tijuana, Mexico — will have its official launch at an event next Tuesday, Nov. 14, at the Jan Shrem and Maria Manetti Shrem Museum of Art. [ More… ]
Study finds that some corals in the normally cool waters of the Cook Islands carry genetic variants that predispose the corals to heat tolerance. But the preliminary results show they may not adapt quickly enough to outpace climate change. [ More… ]
Researchers are trying a natural source of the amino acid methionine in poultry feed, and are asking people to taste-test the eggs (in hard-boiled form). Two more tastings are scheduled: Nov. 9 and 30. [ More… ]
More than 20 events include everything from discussions with a team cataloging personal stories about deportation to a documentary screening, an opportunity to try Chinese calligraphy, a night of singing with a mariachi band, and other ways to learn about and celebrate our global connections. [ More… ]
A memorial service will be held this Saturday (Nov. 11) at Putah Creek Lodge for the distinguished professor emeritus of molecular and cellular biology. He died Oct. 9 at the age of 84. [ More… ]
The test will go out about 11:50 a.m. Nov. 8 by text and email to UC Davis affiliates and people who have registered through the community registration page, and by text only to other subscribers. Plus …
Orchard Park apartments coming down
New sessions of 'Gatekeeper Training'
Open enrollment clock is ticking
1-day commencement regalia sale
Wolk named UCCS governance fellow
Food drive and Running of the Turkeys
Tag along with the three students living in the Honda Smart Home as they learn about their new house's features. … The Graduate School of Management fights global food insecurity by packing meals for the hungry in other countries. … Veterans are being honored on the Davis and Sacramento campuses. … Thirty-minute "power nap" classes are open to all at the ARC. [ More, with video… ]
ANNOUNCEMENTS
Call for nominations for the Chancellor's Achievement Awards for Diversity and Community — Honoring UC Davis faculty, staff and students, and local community members. Deadline: Nov. 27.
Call for nominations for Academic Senate awards — Faculty Distinguished Research Award (formerly the Faculty Research Lecture Award), deadline Dec. 1; Distinguished Scholarly Public Service Awards, deadline Dec. 8; and Distinguished Teaching Awards, deadline Dec. 20.
Call for proposals for Seed Grants for International Activities — Faculty members are invited to apply for funding of $5,000 to $15,000 per proposal. The Office of Global Affairs encourages proposals that foster international research collaborations, create innovations in internationalizing the curriculum, and build new interdisciplinary, international partnerships. Deadline: Nov. 30.
Gary S. May knows full well the Causeway Classic isn't just about football. We are also in the midst of the three-day Causeway Classic Blood Drive (Nov. 7-9) — and he plans to stop by this afternoon to show his support. He also knows that beating Sac State isn't the most important reason to donate blood. [ More… ]
Editor's Picks from the online calendar: