Spotlight on…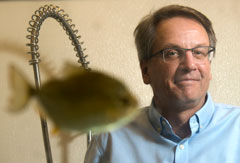 Peter Wainwright, who delivers this year's Faculty Research Lecture on May 9, is arguably the world's leading expert on functional morphology in fish, specifically, the remarkable adaptations that allow fish to feed successfully. Expertise like his is more important today than ever. [ More… ]
NEWS SUMMARY
UC Davis' senior leadership has communicated to deans and vice chancellors the 2017-18 budget framework, which includes a multiyear plan to "bring any deficits in the central operating budget within fully manageable proportions and thus restore the university to fiscal health." [ More… ]
The Working Group on Ensuring Freedom of Expression at UC Davis is asking for comments, ideas and opinions (via an online form) to help inform the group in its mission, as charged by Interim Chancellor Ralph J. Hexter earlier this year. [ More… ]
Professor Nunnari, chair of the Department of Molecular and Cellular Biology, is among the 84 newly elected members of the National Academy of Sciences, as announced by the academy today (May 2). [ More… ]
Tom Nesbitt is the interim vice chancellor of Human Health Sciences and Lars Berglund is the interim dean of the School of Medicine. They both succeed Julie Freischlag, who held both positions prior to her leaving for Wake Forest Baptist Medical Center in Winston-Salem, North Carolina. [ More… ]
Neuroscientist Charan Ranganath leads a project (funded by the Department of Defense) that will dive deeper into the workings of the brain, how it forms, stores and retrieves complex memories. The results could be significant in artificial intelligence, Alzheimer's disease, dementia and other memory disorders. [ More… ]
May is Mental Health Awareness Month, so today we launch a series of stories about our research, treatment and recognition of mental health issues. Our first stories deal with dogs and their increasing role in helping people. [ More… ]
Opportunity knocks for Ph.D. student in the Grad Slam, and for an undergraduate and a researcher (development engineer) chosen to pitch their "I Am a UC Entrepreneur" ideas to three of Silicon Valley's leading venture capitalists. [ More… ]
Calibration is a crucial step in annual performance reviews, but the concept can be confusing to both employees and supervisors alike. What is the purpose of calibration? And what does it look like? [ More… ]
This week you'll be able to increase your chances of hanging on to your bike — or get an inexpensive bike. And just in time to celebrate next week. [ More, with video… ]
The northwest corner of the campus is a training site this week for the UC Davis Fire Department and other Yolo County emergency agencies. Plus …
Cybersecurity talks open to all
'Health Insurance After You Retire'
Peet's is here!
Our basketball teams go to the Capitol, while two Aggie alums represent us at the White House Correspondents Dinner. … Our daughters and sons celebrate TODS. … A football discount for faculty and staff. … The Memorial Union is back open. [ More… ]
Stacy Schiff will talk Wednesday (May 3) about "coaxing a life" from the archives, as she has done for books that include Véra (Mrs. Vladimir Nabokov): Portrait of a Marriage; A Great Improvisation: Franklin, France and the Birth of America; and her fourth book, Cleopatra: A Life. [ More… ]
More featured colloquia:
ANNOUNCEMENTS
6 FOR THE SIXTH: Things to do, places to go!
More Editor's Picks from the online calendar: