You didn't misplace an issue last week — there wasn't one. Dateline is publishing under its summer schedule, and will hit your inbox every other week. Check ucdavis.edu/news for regular updates while you're waiting for the next Dateline (July 26). — The Dateline staff
Spotlight on…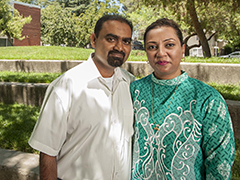 When Student Housing custodial supervisor Yasmeen Khan learned her husband's kidneys were failing, she focused on what she could do — and gave him one of her own. The surgery at the UC Davis Medical Center was delayed twice, but Khan stayed positive throughout the process. [ More… ]
NEWS SUMMARY
Having reacquired development rights, the university announces that the first 50 homes for faculty and staff at UC Davis West Village are due to go on sale in 2018. In addition, the reimagined site plan provides for more student housing. [ More… ]
Let the Games begin — but not before we tell you about UC Davis' connections to the 2016 Summer Olympics. Two Aggie alums will be in Rio as competitors: Kim Conley in the 5,000-meter run and Seth Weil in men's-4 rowing. [ More… ]
We've also got a tie to Olympic rugby: Colby E. "Babe" Slater, class of 1917, won gold medals in 1920 and '24, the last time the sport was played in the Games — until this summer! Our library is celebrating Slater's legacy with an exhibition (running through Dec. 2) and a public event (July 30).
Officials estimate 9,100 freshmen and transfer students will accept, making for total enrollment of about 37,000 in the fall. California residents account for 18,589, or 64.2 percent, of the admitted freshmen — an increase of 2,753, or 17.4 percent, over last year. [ More… ]
Last fall's call for Big Ideas generated hundreds of innovative and ambitious plans for our university — in water, sustainability, human rights, food, regenerative medicine and more — and about 40 of those ideas are in the white paper stage, as UC Davis continues to prepare for its next comprehensive fundraising campaign. [ More… ]
Engineering professors Harry Cheng and Cristina Davis are the first to receive the Innovator of the Year Award, recognizing work that has a societal impact, while art professor emeritus Wayne Thiebaud is the inaugural recipient of the Lifetime Achievement Award for Innovation. [ More, with videos… ]
When the public needs insight and analysis on a U.S. Supreme Court ruling, it turns to the UC Davis School of Law. King Hall faculty contributed to national and local media coverage of a series of momentous rulings as the court concluded its most recent session. [ More… ]
Academic Affairs Vice Provost Maureen Stanton names 12 new Hellman Fellows, early-career faculty members chosen to receive financial support for their research and to assist them in making progress toward tenure. The one-year fellowships range from $15,000 to $50,000. [ More… ]
As the Earth warms, frogs that can withstand hotter areas will be more likely to survive. This is because a fungus that has killed off several species of amphibians grows best in cooler climates. [ More… ]
He began his appointment July 1 as the associate vice provost of Academic Programs in Global Affairs. He succeeds Adrienne Martín, professor of Spanish in the Department of Spanish and Portuguese, who has retired. [ More… ]
Enthusiastic, energetic, inventive (think inner tube water polo!), he had an unquenchable thirst to serve UC Davis students in intramurals and club sports, with a focus on fair play and student leadership. A memorial service will be held July 23 in the ARC Ballroom. [ More… ]
Money magazine puts us 17th among "Best Colleges," while a study in the scientific journal PLOS ONE ranks the faculty of the Department of Wildlife, Fish and Conservation Biology as No. 1 in the nation for research productivity and impact. Plus …
We're an Innovation and Economic Prosperity University
Explore 360 video at Strat Comm open house
UC Davis Extension information sessions
A colorful piano from the city's summertime street music program has appeared on Wyatt Deck. … Statistics students win the Data Mining Cup in Berlin, in competition among 120 teams from 30 countries. … Why do cochlear implants work better for some people? … See what's "Trending" on social media. [ More… ]
"Cancer: The Enemy Within" — Professor Ken Kaplan, Department of Molecular and Cellular Biology, UC Davis, in the Science Café series. Hosted by Jared Shaw, associate professor of chemistry, and presented by the Division of Mathematical and Physical Sciences. (July 13)
"Bans vs. Fees: Disposable Carryout Bag Policies and Bag Usage" — Rebecca Taylor, recipient of an Emerging Scholars Award for Excellence in Research and Public Policy, presented by UC Center Sacramento, gives this talk in the center's Summer Speaker Series. Taylor is a Ph.D. candidate in the Department of Agricultural and Resource Economics, UC Berkeley. (July 21)
"The Great Experiment: Realigning Criminal Justice in California and Beyond" — UC Irvine's Carole Seron (professor and dean, School of Social Ecology) and Charis Kubrin (professor of criminology, law and society), in UC Center Sacramento's Summer Speaker Series. (July 28)
ANNOUNCEMENTS
Road closure — Tercero Hall Circle is closed just east of Dairy Road through Friday, Sept. 2, for underground construction. Detours will be posted for alternate routes via Hutchison Drive and Bioletti Way. Cars and trucks are permitted temporary access to Tercero Hall Circle off Bioletti Way.
Road closure — Kleiber Hall Drive will be closed to all traffic between Hutchison Hall and California Avenue from July 18 through Sept. 16, for utility and street replacement.
Editor's Picks, taken from the online calendar: