Spotlight on…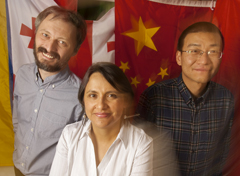 UC Davis' social responsibility knows no boundaries, as evidenced by our welcoming 250 Humphrey Fellows from 93 countries over the last 26 years. The fellows come here to further develop their knowledge, professional collaborations and leadership skills, for continued public service back home. [ More, with slideshow… ]
NEWS SUMMARY
Numbers are up across the board, for California residents, and national and international students. The data also show an increase in applications from historically underserved groups, to 35.1 percent among California freshman applicants and 32.2 percent of domestic transfer applicants from California Community Colleges. [ More… ]
The campus marshals its efforts and resources to accommodate 2016-17 enrollment growth of 1,100 new undergraduates beyond the size of last fall's entering class. [ More… ]
Provost and Executive Vice Chancellor Ralph J. Hexter announces UC Davis Canvas, from Canvas by Instructure, as the campus's new learning management system, starting in the fall. The LMS is a linchpin of educational technology, connecting faculty and students for assignments, discussions and more. Read about the transition. [ More… ]
New UC Davis home page coming Jan. 19
Get your Web browsers ready for something brand new coming to ucdavis.edu next week. The UC Davis home page will have a fresh look, tons of new features and will make key information easier to find than ever. Check next week's Dateline for more information.
Atmospheric scientist Stephen Conley flies a pollution-detecting airplane to provide the only estimates of the methane emissions spewing from the Aliso Canyon underground storage facility in Southern California — about 1,000 tons per day. "To put this into perspective, the leak effectively doubles the emission rate for the entire Los Angeles Basin," Conley says. "On a global scale, this is big." [ More, with video… ]
Team identifies enzyme that appears to play a key role in Pierce's disease, a bacterial infection that annually costs California's grape and wine industries more than $100 million. "With a bacterial disease — much like cancer — if you understand how the virulent form spreads, you can better control or remove it," says plant sciences professor Abhaya Dandekar, senior author of the newly published study. [ More… ]
The Financial Sustainability Action Plan's first Exploration Committee invites everyone at UC Davis to tour a showcase of strategic sourcing ideas that could generate millions of dollars annually for investment in the university's core mission. The committee encourages feedback. The showcase is available online and will be the subject of a forum this Friday morning (Jan. 15). [ More… ]
Six people arrested (the latest last Thursday), dozens of stolen bicycles recovered — but only a few students have gotten their bikes back. The return rate probably could be higher if owners had licensed their bikes. In fact, if you're riding a bike on campus, your bike must have a valid California bike license. [ More… ]
The new year brings a completely redesigned Safety Services website. Plus …
No butterfly (and no beer) yet!
CRU and you in 2016
TANA launches winter workshop
TRENDING: Jeopardy!, new fire engine, construction tour
Instagram: Jeopardy! tonight (Jan. 12) features another category of clues filmed at UC Davis. … Twitter: The campus Fire Department has a new set of wheels. … Facebook: Take a tour of the partially constructed Ann E. Pitzer Center (recital and lecture hall).
ANNOUNCEMENTS
Call for applications: Management Skills Assessment Program, or MSAP — This systemwide program is next being held April 18-21 at the UCLA Conference Center. UC Davis has seven slots for campus and health system personnel; department heads are urged to discuss MSAP with supervisors, managers and professionals who exhibit potential for management development, and encourage them to apply. Deadline Jan. 13.
Latin American Research and Educational Opportunities — Workshop with Wendy DeBoer and Andrea Kaus from UC MEXUS, and Charles Walker, director of the UC Davis Hemispheric Institute on the Americas. (Jan. 20)
These are the Editor's Picks, taken from the online calendar: