We will publish one more Dateline, next week, Dec. 13, before winter break. Our next issue after that will be Jan. 10. In the interim, please check ucdavis.edu/news for news updates and follow us on Twitter.
— The Dateline staff
Spotlight on…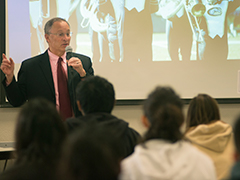 Interim Chancellor Ralph J. Hexter meets up with about 200 juniors and seniors at Woodland's Pioneer High School, encouraging them to strive for admission to the University of California. [ More, with photos… ]
NEWS SUMMARY
Ever since the Nov. 8 election, UC and UC Davis leaders have been reiterating their support for all members of the university community. We've launched a webpage where you can find all of these messages, including:
Statement of Principles: UC "will vigorously protect the privacy and civil rights of the undocumented members of the UC community and will direct its police departments not to undertake joint efforts with any government agencies to enforce federal immigration law."
UC Academic Council, which includes the Academic Senate divisional chairs from each campus, endorses the UC Principles in Support of Undocumented Members of the UC Community.
Ceremony is for undergraduates from the university's four colleges: Agricultural and Environmental Sciences, Biological Sciences, Engineering, and Letters and Science. [ More… ]
Programmatic oversight is being transferred to the College of Agricultural and Environmental Sciences, where Dean Helene Dillard will consult with faculty, staff and others to discuss the center's future vision and determine a long-term strategic framework. Three affiliated programs are also on the move. [ More… ]
Award from the U.S. Department of Transportation solidifies UC Davis' prominence as the nation's leading university on sustainable transportation, where researchers develop scientific solutions for today's most daunting transportation problems. [ More… ]
Janet Napolitano allocates more than $2 million for three projects, one of them by UC Davis' Rahel Sollman, a quantitative ecologist, who will analyze how megafires disrupt the forest ecosystem and food web and pollination networks. [ More… ]
Ben Houlton, who became the director of the John Muir Institute of the Environment in August, is mapping out strategies for a very ambitious goal: Using the institute's resources to help UC Davis become a key player in solving the challenges of global climate change. [ More… ]
The UC Davis Olive Center makes olive oil, to be sure, but also researches other facets of the olive industry — from growing, harvesting and processing, to olive oil storage and quality. Read about all this and the fall harvest in which students and other volunteers helped out in campus orchards. [ More… ]
A reminder to faculty: When you connect with the Mondavi Center's Curriculum Connections program, your students can get $5 tickets for performances associated with classwork. [ More… ]
Campus planners have removed all proposed student housing from Russell Field, in the latest draft of the 2017 Long-Range Development Plan. [ More… ]
The Dec. 15 forum will provide an update on the University of California's new job classification system for nonrepresented staff across the system. Plus …
Football season tickets on sale
Refresher training due for cyberawareness
Management Skills Assessment Program
Holiday Helping update: Toys for Tots, gift baskets for pets
Asbestos removal at construction site
See the parts of campus that have been beautified by landscape architecture majors. … Hear why an animal science major has Aggie Pride. … See the new football coach make stops around campus. … Rock 'n' roll artist Sting credits KDVS and one other U.S. radio station with pushing The Police's first single, "Roxanne," into the mainstream. [ More, with videos… ]
ANNOUNCEMENTS
Editor's Picks from the online calendar: