Spotlight on…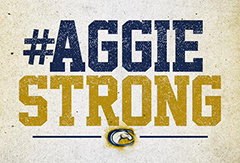 Time for PJs and TDs
Homecoming brings Pajamarino Friday night and football the next day: Aggies vs. the Northern Arizona Lumberjacks. Kickoff 4 p.m., preceded by the sixth annual Brewfest. Wear gold!
NEWS SUMMARY
Chancellor Linda P.B. Katehi's initiative will provide support to families of injured firefighters while they are being treated at the UC Davis Medical Center. [ More… ]
The National Academy of Engineering presents its Simon Ramo Founders Award to Chancellor Linda P.B. Katehi for her "extraordinary impact on the engineering profession" and "leadership in engineering research and education." She is the first woman to receive the award. [ More… ]
A summary of reported crimes on and around UC Davis property in calendar year 2014 shows little change from the previous year. The security report is required by the federal government's Jeanne Clery Disclosure of Campus Security Policy and Campus Crime Statistics Act. [ More… ]
In this fun, friendly competition, UC is asking students, staff and faculty to learn and to showcase for others how each of us can help UC achieve its ambitious goal of carbon neutrality by 2025. Sign up now! [ More… ]
This first-in-the-world project could fundamentally change the way cancers are tracked and treated and put UC Davis on the nation's leading edge of molecular imaging. The EXPLORER project stems from fundamental research that the university funded on its own, through the RISE program. [ More, with video… ]
Given by the Center for the Built Environment, the award "acknowledges all the hard work that went into creating a home away from home for our students," says Sheri Atkinson, director of the Student Community Center. [ More… ]
Ashok Kuman Mirpuri, Singapore's ambassador to the United States, is the featured guest today (Oct. 6) at a UC Davis roundtable discussion on key issues affecting the Asia-Pacific region. Plus …
Law professor Bennoune named UN special rapporteur
Veterinary students organize adoptathon, free clinic
Conference opens doors to health care professions
UC's new Fair Wage/Fair Work: More information
TRENDING: #Being13, lightning over campus, homecoming T-shirts
Instagram: Jurassic World's Chris Pratt shows a picture of himself at age 13, using the hashtag #Being13 and saying he's proud of his brother-in-law (sociologist Bob Faris, associate professor) for his role in Anderson Cooper's study on teens and social media. … Twitter: Watch a slow-motion video of part of the lightning storm that covered Davis over the weekend. … Facebook: Get a sneak peek at the shirts that Intercollegiate Athletics will be throwing into the stands at Saturday's homecoming football game.
ANNOUNCEMENTS
The arboretum was made for weekends like this: a plant sale on Saturday (Oct. 10), offering lessons in drought-tolerant landscaping; and "Walking in the Woods with Chemistry" on Sunday (Oct. 11), launching an exhibit that will run through Dec. 7. In the exhibit, two faculty members and a graduate student are showing molecules that come from plants, and telling us how those molecules are used in our daily lives. [ More, with slideshow… ]
And two more Editor's Picks, from the online calendar: