Spotlight on…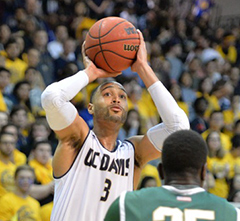 Don't miss this one! Head to Stanford or watch the game on ESPN2 — 8 o'clock tonight, when the Aggie men's basketball team makes its first postseason appearance as a Division I program. It'll be the Aggies (25-6) vs. the Stanford Cardinal (19-13) in the opening round of the National Invitation Tournament. [ More… ]
NEWS SUMMARY
About 250 people attend the "topping out" ceremony for the Jan Shrem and Maria Manetti Shrem Museum of Art. People sign a steel beam and then see it hoisted into place where it will be visible when the museum is completed. [ More, with slideshow… ]
California Supreme Court grants him posthumous admission to the state bar, 125 years after he was kept out by laws that discriminated against Chinese immigrants. Students in the law school's Asian Pacific American Law Students Association petitioned the court last year to "right this historic wrong." [ More… ]
One works with future doctors and nurses; others work with grade-schoolers, underrepresented groups in STEM, and undocumented students and other marginalized communities and vulnerable populations. They are this year's recipients of the Chancellor's Achievement Awards for Diversity and Community. [ More… ]
President Janet Napolitano and Board of Regents Chair Bruce D. Varner underscore the university's bedrock values of respect, inclusion and civility. [ More… ]
UC looks for support in Sacramento, Washington, D.C.
The month of March is sounding pretty good to composer Kurt Rohde. First he learned he's the recipient of a music award from the American Academy of Arts and Letters, and later this week his first opera, Death with Interruptions, will have its premiere performances. Plus … honors for the Center for Regional Change and its director, Jonathan London; David Horton; Jesús De Loera; Chen-Nee Huah; Dan Gusfield; Karl Levitt and Barbara Allen-Diaz. [ More… ]
RESEARCH
Mathematics professor Jesús De Loera specializes in optimization, using math to find the best ways to solve problems. Similarly, he's optimized his role as a mentor, demonstrating math's playful and inquisitive elements, its relevance and beauty — encouraging students like Corina Putinar to experiment with new forms of research. As a member of De Loera's undergraduate research team, Putinar has grown passionate about being on the front line of problem solving and applying new algorithms to continually improve solutions. [ More… ]
Aggie Surplus sells off 29 of the Memorial Union's arcade games and billiards tables for $35,164 in preparation for the MU renewal project that includes a revamping of the basement, including the Games Area. Sale proceeds in part will pay for console-based gaming to replace pinball and other arcade attractions like "The Fast and the Furious Super Bikes." … Today, Aggie Surplus is collecting e-waste for free, from campus units only. [ More… ]
The good rankings keep on coming! UC Davis is 44th in Times Higher Education's World Reputation Rankings 2015, released March 11. Plus …
Open house next week at Shared Services Center
Smoke-tobacco survey deadline Friday
Health system's 'Inspire' campaign in Phase 3
TRENDING: Red dresses, pink flowers and green leaves
Maria Shriver tweets: "UC Davis Chancellor @lindakatehi's students are using fashion design 2 bring awareness to heart disease in a cool way." … UC Davis Facebook: The Student Fashion Association crafts colorful crowns. … Instagram: "Happy #St. Patrick's Day, Aggies! #GoGreen."
The Department of Mathematics is hosting this conference (today through March 20) for developers in algebraic combinatorics, Lie theory and representation theory, for the purpose of discussing needed features and developing code for Sage, a free, open-source mathematics software system. [ More… ]
ANNOUNCEMENTS
Today, March 17
Music by One-Eyed Reilly, accompanied by beer tasting, in the Corin Courtyard, starting at 5:30 p.m. Free (21 and up, with a ticket to the Danú concert.) Danú plays at 7 p.m. in Jackson Hall. [ More… ]
Thursday-Saturday, March 19-21, The Pavilion at the ARC
It's "Robotic Rush" this year, with teams using their robots to stack totes, cap the stacks with recycling containers and properly dispose of swimming pool noodles, representing litter. Free. [ More… ]
Thursday-Saturday, March 19-21, 7 p.m., Vanderhoef Studio Theatre
These "films" comprise only audio and each listener's imagination. Audience members are blindfolded, "the better to be fully immersed in the three-dimensional sound and cinematic musical score used to create a hyperreal aural experience." [ More… ]
Wednesday, March 25, Mondavi Center for the Performing Arts
6:30 p.m. in the Corin Courtyard: Free concert by Classical Revolution Sacramento. Food and drink available. 8 p.m. in Jackson Hall: Pianist Lang Lang (tickets required). [ More… ]
Sunday, April 26, and Sunday, May 3, Quad
Registration now open for both. April 26: Third annual Stride for Aggie Pride, benefiting student scholarships and We Are Aggie Pride, which provides emergency funding to students. May 3: First Genius Run/Walk, to raise funds for summer undergraduate research scholarships. [ More… ]