With summer's arrival, Dateline is revising its schedule a bit, just like we did last year. Look for Dateline on the following dates (tentative): June 30, July 14 and 21, and Aug. 11 and 25.
— The Dateline staff
Spotlight on…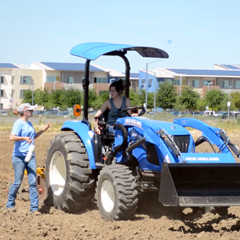 UC Davis has more than its fair share of unique jobs, and here's one of them: tractor-driving instructor. Mir Shafii takes on roughly 100 students every spring in ABT 49. "If you come at the end of this quarter, this field has been worked so many times the soil is like powder," says Shafii, who's been working at UC Davis for 25 years and teaching the tractor-driving class for five. Read a Q&A with Shafii and see his students in the driver's seat. [ More, with video… ]
NEWS SUMMARY
Professor Richard L. Kravitz of the School of Medicine will continue as the director of UC Center Sacramento, as a permanent appointee, after serving the last two years as the interim director. [ More… ]
COSMOS, officially the California State Summer School for Mathematics and Science, begins its 16th season this month with UC Davis Professor Niels Grønbech-Jensen as the newly appointed statewide faculty executive director, a role he had filled on an interim basis since late 2014 when the statewide administrative home for COSMOS moved from the UC Office of the President to UC Davis. [ More… ]
Independent organization awards its "gold seal" of full accreditation to UC Davis' human research protection program. Accreditation signifies that our university follows rigorous standards for ethics and quality that surpass state and federal regulations. [ More… ]
Native wildflowers in California are losing species diversity after multiple years of drier winters, based on 15 years of monitoring in the UC Davis Natural Reserve System. The study provides the first direct evidence of climate change impacts in the state's grassland communities. [ More… ]
Times Higher Education ranks UC Davis as one of the top 10 universities in the world with a female leader. The "#10 world ranking is all due to the hard work of our faculty, staff and students," Chancellor Linda P.B. Katehi says in social media posts. "Thank you to all of you!" [ More… ]
George R. "Ron" Mangun, founding director of the Center for Mind and Brain, will spend six months in the Netherlands as a Radboud Excellence Initiative professor. Plus … A distinguished service award for Amanda Crump, associate director of the Horticulture Innovation Lab; an honorary degree for Charles Bamforth, the Anheuser-Busch Endowed Professor of Malting and Brewing Sciences; and national recognition for the communications team at the School of Veterinary Medicine. [ More… ]
The city of Davis will hold a community forum this Saturday (June 27) on two innovation district proposals — but it won't be your typical forum, say, like one held in a large meeting hall. This forum will be in two places at once, at Informational Pop-Up Workshops near the project sites. Plus …
MU chimes go silent for the summer
Alum, faculty member nominated to lead state agency
TECHNEWS: Wireless projects postponed
New memorial to organ donors
TRENDING: A four-string in the fabrication lab, musical walls and major explanation
YouTube: Mike Akahori manages the Engineering Fabrication Lab at UC Davis, and balances his days by playing the ukulele. … Instagram: The first wall for the Ann E. Pitzer Center, a future recital hall and classroom, is raised into place. … Facebook: What does it mean to be an English major?
ANNOUNCEMENTS
These are the Editor's Picks, taken from the new online calendar: