Spotlight on…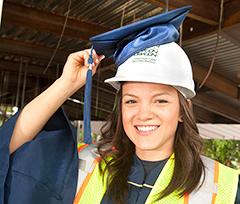 Civil engineering major Maria Muñoz (pictured) will soon trade her grad cap for a hard hat, as but one example of how the Class of 2015 is having success looking for work. Students are receiving job offers earlier than in the recent past, some students are receiving multiple offers, and others have bright prospects. See how UC Davis helps its students find employment. [ More… ]
Related stories:
NEWS SUMMARY
Chancellor Linda P.B. Katehi names UC Davis' first chief global strategist: Joanna Regulska, who holds a similar position at Rutgers and has extensive international experience as an academic in women's and gender studies and the process of democratization. [ More… ]
A new CWTS Leiden ranking of research impact puts UC Davis first in the world in the category of life and earth sciences. "Our faculty has achieved an unparalleled level of excellence, and the Leiden rankings support that we have truly become a global university," says Vice Chancellor Harris Lewin of the Office of Research. [ More… ]
The Office of Research and the Behavioral Health Center for Excellence will give up to $200,000 each over two years to five UC Davis teams deemed to have the potential to make high-impact discoveries in brain science, through innovative interdisciplinary projects, and which could have a shot at funding from President Obama's BRAIN Initiative. [ More… ]
State audit confirms many of the university's own findings about the Strawberry Breeding Program, "indicating that the program is operating well within state regulations and university policies," says Mary Delany, executive associate dean of the College of Agricultural and Environmental Sciences. [ More… ]
Show these students a divide that needs bridging, between viewpoints and personal identities, and they'll offer up the tool of sustained dialogue to help people across. Show the students the Edmund Pettus Bridge in Selma, Alabama, and they'll cross it — which is exactly what they did to commemorate the 50th anniversary of "Bloody Sunday," when law enforcement officers beat back a voting rights march on the bridge. [ More, with slideshow… ]
Here's the takeaway from last week's malicious spam attack: Be careful about what attachments you open. Plus …
Fall Diversity Awareness Workshop
Health-wellness needs assessment closes Friday
UC Davis has a 'Best Children's Hospital'
Committee named to assist in Berkeley Lab director search
TRENDING: Grad supporters, ITS abroad, 'Aggie Pride Every Day'
Instagram: A Class of 2015 grad and her biggest (little) supporter. … Twitter: The Institute of Transportation Studies' Lewis Fulton speaks at the International Association of Public Transport World Congress and Exhibition in Milan. … YouTube: Hear a senior and Unitrans manager explain what Aggie Pride means to her.
ANNOUNCEMENTS
Lane and sidewalk closures on California Avenue and Beckett Hall Circle — June 15-July 3, for underground utility work. Closed: northbound lane of California Avenue at Beckett Hall Circle; sidewalk on the east side of California at the same intersection; and westbound lane of Beckett Hall Circle.
Lane closures on Bioletti Way south of Bainer Hall Drive — June 15-29, for underground utility work. June 15-21: The southbound lane will be closed; southbound traffic can use the northbound lane, taking turns with northbound traffic. Parking Lot 44 will remain accessible from the south. June 22-29: Both lanes will be closed; Lot 44 will remain accessible from the south.
These are the Editor's Picks, taken from the new online calendar: