Dateline will take next week off (July 21) and return July 28.
— The Dateline staff
Spotlight on…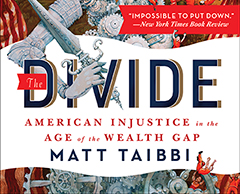 We have a book. We have a date for the author's talk (Feb. 3). Now we're looking for people to help plan the rest of the 2015-16 Campus Community Book Project — lectures, workshops, panel discussions, films and more — to go with Matt Taibbi's The Divide: American Injustice in the Age of the Wealth Gap. Also, nominations are being accepted for the 2016-17 book (topic: poverty/hunger/food security). [ More… ]
NEWS SUMMARY
Accounting for about one-third of our undergraduate enrollment, transfer students "bring to the campus a rich mix of diversity and dedication to learning," Chancellor Linda P.B. Katehi says. The new Transfer Pathways program, officially launched last week at Sacramento City College's Davis Center at UC Davis West Village, "shows the UC's continued commitment to providing access for as many California students as possible," she says. [ More… ]
As summer interns in policy and public service, six UC Davis students are tackling such heady state subjects as Medi-Cal and housing policy, the 2030 Low Carbon Grid Study and the Healthy Soils Initiative. The students are affiliated with Emerging Leaders in Policy and Public Service, or ELIPPS, a 1½-year-old campus program for graduate and professional students. [ More… ]
Discovery could eventually benefit millions of people with chronic pain from trauma, diabetes, shingles, multiple sclerosis or other conditions that cause nerve damage. [ More… ]
Professor Ken Giles specializes in chemical application, and is credited with major accomplishments in the development of new technology for mobile spraying systems. … Professor Robert Powell has been elected to the governing board of the Association for Women in Science. … World Food Center Director Roger Beachy and plant pathology professor Pamela Ronald are among Scientific American's WorldVIEW 100 — the most influential people in biotechnology. … Plus, honors for three professors of biomedical engineering, David Rocke, Scott Simon and Simon Cherry; and an award for law professor Richard Frank. [ More… ]
The American Trails organization recently presented a Trail Worker award to UC Davis staff member Andrew Fulks, whose work you can see underfoot on university land and elsewhere in the region. On campus, he's the director of the Putah Creek Riparian Reserve. Off campus, he led the three-year construction of a seven-mile trail with a 3,500-foot elevation gain to Berryessa Peak, part of the newly designated Berryessa Snow Mountain National Monument (another of his passions). [ More… ]
Campus Dialogue and Deliberation is presenting a three-hour workshop on "Bridging Divides With Dialogue," and Student Affairs is holding its second annual "Stay Day," a stay-on-campus conference for staff members who work directly with students. [ More… ]
UC Davis receives an "A" grade in Money magazine's 2015 "Best Colleges," measuring educational quality, affordability and career earnings to help families find "great schools that are truly worth the investment." Plus …
Napolitano names USDA exec to lead ANR
No increases in long-term parking fees
Aggie kickoff times announced
TECHNEWS: Surplus computers, Windows Server 2003
'Very successful turnout': 298 pints of blood
TRENDING: 6 reasons to love Davis, TEDx speeches, Aggies abroad
Facebook: The UC Davis community is about more than what happens on campus, and this video features six of the best features of the wider Davis community. … YouTube: If you missed this year's TEDxUCDavis event, videos from two speakers featured in Dateline (Rose Hong Truong and TJ Lee) — among others — are now available online. … Instagram: UC Davis students traveling abroad — like this student, studying fashion marketing in Paris — are taking in the sights and sharing what they see on social media.
"Public Universities and Regional Development" — UC Davis' Martin Kenney, professor of community and regional development, in UC Center Sacramento's Summer Speaker Series. (July 16)
"Fifty Shades of Bitter: The Complexity of Bitter Taste" — Masha Niv, professor, Institute of Biochemistry, Food Science and Nutrition, Robert H. Smith Faculty of Agriculture, Food and Environment, The Hebrew University of Jerusalem. (July 21)
"U.S. Alcohol Taxes: Too High, Too Low or Just Right?" — James Fogarty, senior lecturer, University of Western Australia. Hosted by the Center for Wine Economics at the Robert Mondavi Institute for Wine and Food Science. (July 22)
ANNOUNCEMENTS
No announcements or directives were issued this week.
These are the Editor's Picks, taken from the new online calendar: