Spotlight on…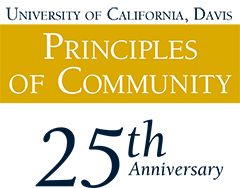 Starting today (Feb. 24) and extending through Principles of Community Week (March 2-6), faculty, staff and students are invited to forums where a committee will present a draft revision aimed at keeping the 25-year-old principles relevant today and into the future. POC Week also includes a colloquium on "Beyond Unconscious Bias" (March 3); the UndocuAlly Program for Educators (March 4); and the documentary film Facing Fear, followed by a dialogue (March 4). [ More… ]
NEWS SUMMARY
University and Yolo County health officials are identifying people who had close contact with a student who has been diagnosed with meningococcal disease, and recommending antibiotics to protect them from becoming ill. Officials are not recommending antibiotic prophylaxis for community members or UC Davis students in general. [ More… ]
The university's first chief financial officer, Dave Lawlor, has united the two halves of the old ARM under a new name: Office of the Vice Chancellor and Chief Financial Officer-Finance, Operations and Administration (VC-CFO, for short). He's also outlined four guideposts for his division. [ More… ]
In response to numerous requests, Administrative Reorganization and Transformation recently modified its online suggestion form to generate feedback that is more candid. Now you can submit your comments without providing your campus ID or and passphrase. ART, in support of the larger vision of UC Davis as the "University of the 21st Century," focuses on administrative efficiency, effectiveness and revenue generation by fostering a culture of innovation and creativity. [ More, including outcomes resulting from your suggestions… ]
It's already cost the oyster industry in the Pacific Northwest nearly $110 million and jeopardized about 3,200 jobs, says Julia Ekstrom, director of the climate adaptation program at the UC Davis Policy Institute for Energy, Environment and the Economy. "Our research shows, for the first time, that many communities around the U.S. face similar risks." [ More… ]
A hands-on workshop is scheduled March 4-5 on "mRNAseq for 'Semimodel' Organisms," open to everyone. … The UC Davis Biorepositories Initiative will be introduced at a March 11 conference. It is open to all faculty and staff from the Sacramento and Davis campuses who would like to express their ideas, needs and priorities involving human biospecimens. [ More… ]
UC students, faculty, staff and retirees are among the 80 million Anthem members and former members who are at risk of data theft as a result of the external cyber attack that the company disclosed on Feb. 5. The data breach compromised the members' personal information (names, birth dates, addresses, email addresses, Social Security numbers, etc.), but not financial or medical information, according to Anthem. The insurer is offering identity theft repair assistance and credit monitoring services. [ More… ]
Gov. Jerry Brown reappoints Aggie alumnus Craig McNamara as president of the state Board of Food and Agriculture and names another Aggie to a seat on the board: Helene Dillard, dean of the College of Agricultural and Environmental Sciences. Plus:
Aggies maintain big presence in Peace Corps
No July 1 increase in retirement contributions
Umbilical cord blood available to researchers
TechNews: IET upgrades wireless access points
YouTube: One World, One UC Davis … turning knowledge into action. … BuzzFeed: 7 delicious reasons to be an Aggie! Take a college tour of a different kind. … Twitter: @UCDavisMBB earns No. 8 ranking in @CollegeInsider's latest top 25 poll.
ANNOUNCEMENTS
Today, Feb. 24, 7:30 p.m., Nelson Gallery, Nelson Hall
Reading from her collection Faithful and Virtuous Night, winner of the 2014 National Book Award for Poetry. She's also a Pulitzer Prize winner, 1993, for The Wild Iris; and she's a former poet laureate of the United States (2003-04). Sponsors include the Program in Creative Writing, the Department of English, the UC Davis Humanities Insdtitute and the Nelson Gallery. Free. [ More… ]
Wednesday, Feb. 25, 7 p.m., Vanderhoef Studio Theatre, Mondavi Center for the Performing Arts
A dialogue ("jugalbandhi") between the Hindustani and Carnatic traditions of Indian classical music, featuring vocalists Rita Sahai, director of the Department of Music's Hindustani Vocal Ensemble, and Fulbright Scholar Sikkil Gurucharan from India. Tickets. [ More… ]
Thursday, Feb. 26, noon-1 p.m., Meeting Room D, Student Community Center
Lisa Terry presents this brown bag workshop on how to start a conversation with your supervisor, and what to say. Discover effective communication techniques and tools for creating an engaging conversation that allows you to share your career goals and find support. [ More… ]
Thursday-Sunday, Feb. 26-March 1 and March 5-8, Main Theatre, Wright Hall
Neil LaBute's adaptation of Georg Büchner's 1830s play about the dehumanizing effects of the military and medicine on a young man. Curtain time 8 p.m. Thursday-Saturday, 2 p.m. Sunday. Preperformance discussion: 5 p.m. Friday (Feb. 27), with LaBute and Granada Artist-in-Residence Bob McGrath, director of the UC Davis production. [ More… ]
Saturday and Sunday, Feb. 28 and March 1
Feb. 28: Guided tour through the Eric E. Conn Acacia Grove and its late winter display of yellow blossoms. 2 p.m., meet at the Putah Creek Lodge. March 1: The Arboretum Ambassadors (students) present another edition of Storytime Through the Seasons, this one titled "Climbing Up the Gingko Tree." The arboretum's East Asian Collection serves as the backdrop for this all-ages program of stories and activities centering on the cultural and natural world of Asia (in honor of the Chinese new year). 1-3 p.m., Wyatt Deck (rain location: 146 Environmental Horticulture). [ More… ]
Saturday-Sunday, Feb. 28-March 1, Veterans Memorial Theatre, 203 E. 14th St., Davis
Organized annually by the Women's Resources and Research Center, this is a localized take on the award-winning play Vagina Monologues. Performances at 2 and 6 p.m. Saturday, and 5 p.m. Sunday. [ More… ]