Spotlight on…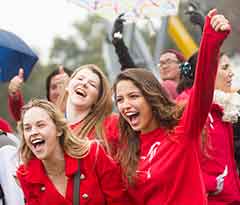 We made last year's heart formation in the rain, and we'll do it again this Friday (Feb. 6), the second annual UC Davis Wears Red Day. Come to Hutchison Field for the Battle Heart Disease Fair (11 a.m.-1 p.m.) and the heart formation (noon). Get your 2015 heart T-shirt at UC Davis Stores; $2 from every sale goes to the UC Davis Women's Cardiovascular Medicine Program. [ More… ]
NEWS SUMMARY
Campus leaders respond with outrage to "despicable and hateful" swastikas spray-painted outside Jewish fraternity Alpha Epsilon Pi. "This kind of behavior is not only repugnant and a gross violation of the values our university holds dear, it is unacceptable and must not be tolerated on our campus or anywhere else," reads a message from Linda P.B. Katehi, chancellor; Ralph J. Hexter, provost and executive vice chancellor; and Adela de la Torre, vice chancellor, Student Affairs. [ More… ]
Professors and prominent researchers can either talk to people on social media, or just be talked about. "If you have a profile (in your field), you're going to be in social media whether you like it or not," Paul Knoepfler, associate professor in the School of Medicine, told about 50 faculty members and researchers during a Jan. 28 workshop to help them inform, inspire and interact with targeted audiences via Instagram, Twitter, Facebook, LinkedIn and blogs. [ More, with slideshow and video… ]
A newly formed joint research group in veterinary and human medicine has secured funding to investigative possible links between dummy foal syndrome (in which newborn horses seem detached from their surroundings) and autism. [ More, with video… ]
They golf and they play soccer — and they create recipes for healthy meals. This week, the student-athletes' Get Yolked Taco Scrambler and Kickin' Chikin' Scramble will go head to head in the UC Davis Athletics Scrambler Face-Off in all three dining commons. Liz Applegate, director of the sports nutrition program, asked all Intercollegiate Athletics teams to come up with scrambler recipes that met four criteria: simple, original, affordable and nutritious. The men's golf team and women's soccer team are the finalists — and diners will decide the winner from 4:45 to 8 p.m. Wednesday (Feb. 4). Everyone is welcome! [ More, including the recipes… ]
Sikkil Gurucharan, a well-known musician in his native India, is engaging students and the larger community while at UC Davis as a Fulbright scholar. Gurucharan, co-teaching a class in the Department of Religious Studies, will give several workshops on Indian music and perform in a concert with other Indian musicians. [ More… ]
UC employees who use Sutter Health are breathing a sigh of relief, and UC benefits managers are taking steps to prevent such surprises in the future. Plus…
Live chat with space station crew
Focus groups on campuswide communications
'Together, we do save lives'
YouTube: Professor Kimber Stanhope on "Sugar Hidden in Plain Sight." … Nationwide's Super Bowl commercial: "Football and childhood death? Marketing that might backfire" — hear what GSM Professor Olivier Rubel has to say. … @CCC_UCDavis (Cross Cultural Center): "Drumroll … we've made the UC Davis Nap Map!!! … #ucdavis #sleep."
"Stories from the Field" — With Pamela Spycher, Tom Adams and Shelly Gilbride, alumni with doctoral degrees in history, performance studies and education, who will discuss their paths to successful and fulfilling careers in government, nonprofit organizations and education research. (Feb. 3)
Leonardo Art Science Evening Rendezvous (LASER) — Featuring these talks: "Secret History of American River People," "Mushroom Facts, Folklore and Fun," "Microcosmos of Bali" and "Alter Eco-Art." (Feb. 5)
ANNOUNCEMENTS
Black Family Week leads off (Feb. 2-13), followed by a Chinese New Year and Culture Celebration this Thursday (Feb. 5), and, from March through May, celebrations of mixed heritage, Native American culture, Asian Pacific culture and la Raza (Chicana/o-Latina/o) culture. [ More… ]
It'll be a fantastic, fun-tastic and free-tastic Sunday for the whole family on the Davis campu. And Campus Rec-tastic and STEM-tastic, too! So, pack up the kids, or just yourself, and come on out Feb. 8 for two arboretum programs, six museum open houses, and a preview of summer recreation and education programs for children. Also, Sunday is your only opportunity to register early for the summer programs. [ More… ]
Wednesday-Thursday, Feb. 4-5, and Tuesday, Feb. 10, all noon-1 p.m.
"Say Goodbye to Your Lawn" — An overview of drought-tolerant plant selections, and how to water and care for your new landscape. (Feb. 4, 18 Da Vinci Building)
Bellydancing — Kick off your work shoes and allow yourself to be captivated by the graceful, sensual, celebratory music and dance of the Middle East. (Feb. 5, multipurpose room, Student Community Center)
Balletone: Standing Flow — Fusion-style conditioning program, designed specifically for the nondancer, blending training techniques drawn from dance, Pilates and fitness. (Feb. 10, Aspen Conference Room, Shared Services Center, Cousteau Place)
Thursday, Feb. 5, noon-1 p.m., 228 Voorhies Hall
This new series begins with Maceo Montoya, assistant professor, Department of Chicana/o Studies, presenting his memoir, Letters to the Poet from His Brother. [ More… ]
Saturday, Feb. 7, and Saturday-Sunday, Feb. 28-March 1
UC Davis observes V-Day this year with performances of The Vagina Monologues (by School of Medicine students, staff and faculty) and Vagina: OurStories, organized annually by the Women's Resources and Research Center as a localized take on the award-winning Monologues play. Proceeds from all performances will go to organizations local and international that strive to end violence against women and girls. [ More… ]
Tuesday, Feb. 10, Jackson Hall, Mondavi Center for the Performing Arts
Temple Grandin participates in a Forum@MC panel discussion, "Neurodiversity: The Line Between a Difference and a Disability, or Neurotypical in Context," 4-5 p.m. (free); and gives a talk based on her book Thinking in Pictures: My Life with Autism, 8-9:30 p.m. (tickets required). [ More… ]