Spotlight on…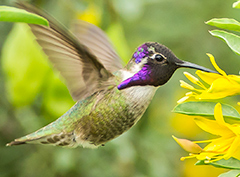 Bees get most of the pollinator glory, but hummingbirds do their part, too. They're also a sentinel species, indicative of overall environmental health. Which is why the UC Davis Hummingbird Health and Conservation Program is watching out for the world's smallest birds. [ More, with video… ]
NEWS SUMMARY
After months of review, and input from the campus community, a committee of faculty, staff and students has completed its review of the 25-year-old Principles of Community, made modifications — and put forth the document for reaffirmation next week. Chancellor Linda P.B. Katehi will sign first at the ceremony from 1:30 to 2:30 p.m. Tuesday (April 28), open to all. [ More… ]
The fifth annual TEDxUCDavis goes "Beyond the Conversation" this Sunday (April 26), inspiring people to take action. Speakers include a student who will describe an optometric device she developed with three classmates, offering a simpler, cheaper way to prescribe eyeglasses in developing countries. [ More… ]
New restrictions on traffic in the campus core are set to take effect Monday (April 27), furthering efforts to reduce the risk of vehicle versus pedestrian-bicyclist accidents. Officials announced additional lockdown periods, when the gates will not open and drivers who are already inside must pull to the curb and stop, and stricter enforcement. [ More, with Vine video… ]
The Davis campus is getting a new central voice-mail service, and users are advised to set up their new accounts starting Monday (April 27). Also, the new wireless service ucd-guest is being rolled out to the entire Davis campus, offering simpler Internet access for visitors. At the same time, moobilenet will be retired. [ More… ]
The California Roadkill Observation System maintains an interactive map showing roadkill incidents, as reported by the public, and now UC Davis' Road Ecology Center has analyzed the data to come up with a list of roadkill "hot spots." The data could help highway planners take measures to protect both drivers and wildlife. [ More… ]
Food science major Constantine "Costa" Spyrou and teammates take his idea all the way to the grand prize in the Food Hackathon, which asked participants to rethink the way people and technology interact in our food systems. Spyrou's idea: an app to help guide people in their choice of food so as to avoid anything that might interfere with their medications. [ More… ]
"UC cannot cut its way to continued excellence," the UC president says in an April 14 message to faculty and staff, asking them to join her in pressing the state to "do its part and reinvest in public higher education so UC can keep its promise to the people of California." [ More… ]
Online repository features dashboards, tables and storyboards that give the public an easier way to learn about admissions data, alumni outcomes and such other topics as affordability (how UC stacks up against its peer institutions) and UC's role as a research powerhouse. Personnel data is also included. [ More… ]
LinkedIn goes "IRL" (in real life) at UC Davis tonight (April 21) at a free event for students and alumni, offering them tips on improving their LinkedIn profiles and job interview skills. Plus …
$100,000 restitution ordered in explosives case
Global Food Initiative fellowships to continue
Center named to lung cancer 'Dream Team'
TRENDING: A di-Vine Picnic Day, a divine Wright Hall
Vine: See some of your Picnic Day favorites in six-second videos (be sure to scroll down to see them all!). … Twitter: See @petescully's panorama of Celeste Turner Wright Hall.
The new Institute for Social Sciences presents its first major conference, three Fridays in a row, April 24, and May 1 and 8, exploring such topics as video gaming, virtual experiences, the cultural politics of food and the social network of gangster Al Capone. [ More… ]
ANNOUNCEMENTS
Today, April 21
To raise awareness about sexual assault, support survivors, and promote action within the community to end sexual and gender-based violence. The march will assemble starting at 5:30 p.m. outside North Hall, and will go to the Student Community Center for the Take Back the Night program. It will include a talk by Rico Ozaki of My Sister's House; spoken-word artists and other performers; and a resource fair. [ More… ]
Through midnight Sunday, April 26, 90.3 FM or kdvs.org
Donate online or call in 24 hours a day: (530) 754-KDVS. Check out the website for gifts that are being offered in return for donations. Related events around town and in Sacramento. [ More… ]
Today-Wednesday, April 21-22, 10 a.m.-5 p.m., Quad
Every participant gets a very cool "I.V. League Blood Donor" T-shirt! Come hydrated, and bring a photo ID. [ More… ]
Thursday, April 23
This "mini-Picnic Day" gives your children the opportunity to envision their futures at the university. Most activities have no advance registration. [ More… ]
Beat the drought: 'New Front Yard' plant sale and 'Say Goodbye to Your Lawn'
Saturday, April 25, and Tuesday, April 28
April 25: Arboretum plant sale, 9 a.m.-1 p.m., Arboretum Teaching Nursery, open to the public. April 28: WorkLife and Wellness brown bag, "Say Goodbye to Your Lawn," noon-1 p.m., Aspen Conference Room, Shared Services Center, 260 Cousteau Place, Davis.
Sunday, April 26, and Sunday, May 3, Quad
9 a.m. April 26: Third annual Stride for Aggie Pride, benefiting student scholarships and We Are Aggie Pride, which provides emergency funding to students. 9:30 a.m. May 3: First Genius Run/Walk, to raise funds for summer undergraduate research scholarships. [ More… ]
Sunday, April 26, noon-2 p.m., Arboretum GATEway Garden (behind the Davis Commons shopping center)
First of three Nature Discovery Drop-in Days (the others are May 9 and 16), exploring such topics as ecology, biodiversity and sustainability, through demonstrations and hands-on activities. Free. [ More… ]