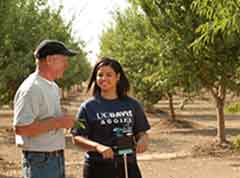 "Farm to Fork" is many things: It's a Sacramento festival (we were there last weekend!). It's a tasty, locally sourced meal in our dining commons (Oct. 23, open to everyone). And, most important, it's what we do at UC Davis, as you'll see at Harvest: A Gathering of Food, Wine, Beer and the Arts, on Sunday, Oct. 12, and in our new "One California" video. [ More, with video… ]
NEWS SUMMARY
Chancellor Linda P.B. Katehi invites the campus community -- students, faculty and staff -- to the Fall Convocation, next Tuesday, Oct. 7, on the topic of "UC Davis in the 21st Century: Educating for the Future of California and the World." State Senate President Pro Tem Darrell Steinberg, a 1984 graduate of the School of Law, will give the keynote address. The convocation starts at 10 a.m. and will be followed by a Student Research Expo (11 a.m.-1 p.m.) on the Vanderhoef Quad. [ More… ]
A harsh reality once stood between Ana Maciel and her dream of a college education: She is an undocumented immigrant. Now, just a few years later, the junior is living that dream at UC Davis and has played a role in establishing a center to help others like herself through their obstacles to a university education. [ More, with video… ]
UC Davis partners with SunPower Corp. to build 16-megawatt plant that is expected to generate 14 percent of the campus's electricity needs. It will be the largest solar power plant in the UC system, and the largest solar power plant to offset the electricity demand of a U.S. university or college campus. [ More… ]
A new scientific review from UC Davis reports that the performance and health of food-producing animals consuming genetically engineered feed, first introduced 18 years ago, has been comparable to that of animals consuming non-GE feed. [ More… ]
UC Davis and University College Dublin sign an agreement of cooperation to further develop education, research, innovation and cultural links between the two institutions.
UC Davis and Academia Sinica, the preeminent academic institution in the Republic of China (Taiwan), enter into a collaborative agreement to develop a unique educational and scientific exchange program that couples cutting-edge research with opportunities to translate innovative technologies and commercially relevant discoveries into new companies.
Law professor Karime Bennoune wins the Dayton Literary Peace Prize for nonfiction, for her book Your Fatwa Does Not Apply Here: Untold Stories from the Fight Against Muslim Fundamentalism (the subject of her TEDx talk, which, on video, is an Internet sensation, amassing more than 1 million hits). ... And other honors for faculty and staff. [ More… ]
The security vulnerability affects commonly available Web services on Unix-like systems, including MacOS X and Linux. Mac or Linux users will need to apply a patch as soon as one is available from Apple or Linux. In almost all cases, this vulnerability does not affect Windows users. [ More… ]
The campus has acquired access to a new set of computer security videos, and encourages everyone at UC Davis to take a look -- you can watch the core videos in about 45 minutes, and, in so doing, reduce your odds of getting mugged online. ... A related Q&A includes the biggest mistake in online security: "People don't consider themselves a target." [ More… ]
The annual Disability Awareness Symposium -- this year with a faculty member's keynote address on attention deficit hyperactivity disorder -- will be held Thursday, Oct. 9, in conjunction with the Accessibility Tech Fair. For the first time, the symposium will span the causeway in real time: As Julie Schweitzer gives her ADHD talk on the Davis campus, she will appear on video on the Sacramento campus. [ More… ]
Strategic Sourcing, part of Contracting Services, wants to help your campus unit save money on purchasing! Find out how at the annual Strategic Sourcing Vendor Fair. Plus ... [ More… ]
'Save Water' message hits bathrooms
Meet this year's Humphrey fellows
International Festival this Sunday
Davis Neighbors Night Out: Oct. 12
Dorm Suite Dorm on Pinterest showcases our students' decorating styles. ... Unitrans refurbishes London phone booth for the MU bus terminal's reopening. ... "Like" the Aggie Sol team in the U.S. Department of Energy's 2015 Solar Decathlon.
The Provost's Forums on the Public University and the Social Good begin their third year with Michael S. Teitelbaum's talk on Oct. 9 on "STEM, Immigration and Controversy: Does the U.S. Have Enough STEM Workers?" ... The Chancellor's Colloquium Distinguished Speaker Series is set to begin Oct. 27. [ More… ]
An Evening with the Genome Center, with Justin Siegel, assistant professor, chemistry, biochemistry and molecular medicine, exploring the topic: Can video games be used to design therapeutics and novel bio-based products, and to educate a new generation of scientists? 7:30-8:30 p.m. Saturday (Oct. 4), dopwntown Davis. Free. [ More… ]
ANNOUNCEMENTS
Putah Creek Parkway closure through Oct. 13 — For construction between West Olive Drive and the tunnel under the Union Pacific railroad tracks (this is the section of the parkway that connects the arboretum and south Davis. Bicyclists and pedestrians are being detoured to the Richards Boulevard undercrossing.
Today (Sept. 30)-Dec. 12, C.N. Gorman Museum, 1316 Hart Hall
Recent photographic works by Natalie Robertson (Ngati Porou/Clan Donnachaidh) that engage with indigenous relationships to customary food and water sources. Artist talk and reception, 4-6 p.m. Tuesday, Oct. 14. [ More… ]
Thursday, Oct. 2, noon-1 p.m., multipurpose room, Student Community Center
Rose Zahnn of Healthy Habits Studio presents this lunchtime program in the WorkLife and Wellness Brown Bag Series. Balletone: Standing Flow is a fusion-style conditioning program, designed specifically for the nondancer, blending training techniques drawn from dance, Pilates and fitness. [ More… ]
Thursday, Oct. 2, 12:05-1 p.m., Jackson Hall, Mondavi Center for the Performing Arts
It's a new season for UC Davis' free, weekly concerts, which date back 60 years. This week's Shinkoskey Noon Concert: The UC Davis Summer Symphony -- with graduate conductors Garrett Rigsby and Jonathan Spatola-Knoll -- performs Haydn's Symphony No. 104 ("London") and Robert Schumann's Overture, Scherzo, Finale.[ More… ]
Friday, Oct. 3, 5:30-7 p.m., Bee Biology Road (west of Highway 113)
Free program includes a display of specimens of the garden's most common bees, plus tips on how to identify bees, and, at 6 p.m., a tour focusing on fall- and winter-blooming plants that provide bee forage. Bee houses will be for sale, to help support the garden. [ More… ]
Saturday, Oct. 4, 7 p.m. (Ross) and 8 p.m. (Offerman)
John Ross hosts a free show, "Comedy Take Over," in the Corin Courtyard, in the hour before actor-author Nick Offerman takes the Jackson Hall stage for his one-man performance, "Full Bush," in which he offers lessons in manliness and leads high-spirited sing-alongs. Offerman's work includes television's Parks and Recreation and the book Paddle Your Own Canoe: One Man's Fundamentals for Delicious Living. Tickets required for "Full Bush." [ More… ]
Tuesday, Oct. 7, noon, and continuing weekly, 1226 Dutton Hall
All experience levels are welcome; instruction is available for people new to the practice. Sponsored by the staff of the Financial Aid Office. Free. [ More… ]
Thursday, Oct. 9, 6-9 p.m., Sheraton Grand Sacramento Hotel
Sake, schochu and Japanese beer (100 beverage selections in all), food (from local restaurants), sushi chef contest and more. $60 advance, $70 at the door; proceeds to the UC Davis Children's Hospital Pediatric Heart Center. [ More… ]
Saturday, Oct. 25, 8 a.m.-noon, Quad
"Don your Cape of Justice, lace up your Shoes of Freedom and take the fight to the streets" in the second annual Heroes Run, benefiting the student-run We Are Aggie Pride, which provides short-term financial assistance to students in need. The 5K run starts at 9 a.m.; the Valhalla Gala follows, with food, music and prizes. Register online. Hosted by Conference and Event Services. [ More… ]