Spotlight on…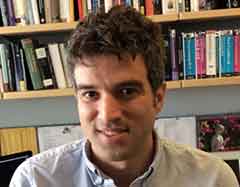 Santiago Ramirez, described by his department chair in evolution and ecology as a "21st-century Darwin," wins a David and Lucile Packard Fellowship worth $875,000 over five years. "He puts together every modern-day tool available to trace the origins of species," Professor and Chair Sharon Strauss tells The Davis Enterprise. [ More… ]
NEWS SUMMARY
Associate Chancellor Prasant Mohapatra is asking for input from the UC Davis community on the university initiative he is leading: Administrative Reorganization and Transformation, aimed at building an administrative structure for the 21st century — an administration in which innovation, creativity and quality of service are embraced in the campus culture. [ More… ]
See what's new with the UC Davis Medical Group's Davis clinic, and with UC Care in El Dorado and San Joaquin counties; and learn about the rest of your benefit options, beyond medical coverage. Plus, the "what, when and how" of open enrollment (Oct. 30-Nov. 25), including a calendar of presentations and help desks, and a list of online resources. [ More… ]
Provost and Executive Vice Chancellor Ralph J. Hexter outlines his hope that UC Davis will become a model on how to comply with the Native American Graves Protection and Repatriation Act in California, in a serious, transparent and balanced manner. Toward that end, the university has its first NAGPRA project manager, Megon Noble, who says UC Davis "will take a more proactive role, further engage tribes in the consultation process and aim to remove real or perceived barriers." [ More… ]
UC Davis' Feed the Future Innovation Lab can continue its work for five more years, thanks to a grant of nearly $19 million from the U.S. Agency for International Development. The lab got its start in 2009 as the Horticulture Collaborative Research Support Program. [ More… ]
Professor Cristina Davis and colleagues in the Department of Mechanical and Aerospace Engineering help develop and test a device for collecting dolphin breath for analysis, which could make it easier to check the animals' health and be used in studying dolphin biology and medicine as well as in wildlife conservation. [ More… ]
Police Chief Matt Carmichael says he wants "every member of our community to know that it is safe to report to and/or seek assistance from the UC Davis Police Department, no matter who you are and no matter how you self-identify." ASUCD President Armando Figueroa says, "I wholeheartedly support the effort led by Chief Carmichael and hope that his influence leads to progressive changes within police relations on our campus and in our community." [ More… ]
You might have heard there will be a partial solar eclipse this Thursday afternoon (Oct. 23). DO NOT LOOK DIRECTLY AT THE SUN during the eclipse or any other time, unless you take proper safety precautions — otherwise you risk serious, permanent eye damage, warns David Takemoto-Weerts. The TAPS Bicycle Program coordinator is happy to help. He will set up a telescope equipped for safe viewing of the sun, and invites the campus community to come by to take a look as the moon passes between the Earth and the sun. Plus…
237 news members in the Quarter Century Club
Friday deadline for Repro's great calendar giveaway
Facebook fans are showing a lot of "like" for UC Davis' top rankings in a new "social mobility index" highlighting schools that do the best job of helping disadvantaged students graduate with the ability to start a career free of crushing levels of debt. … #YourSchoolYourView: "New beginnings" in a traffic circle under the setting sun. … Alum Hasan Minhaj lands gig on The Daily Show.
FEATURED COLLOQUIA
Hamad Dabashi, a professor of Iranian studies and comparative literature at Columbia University, is the first speaker in this year's Chancellor's Colloquium Distinguished Speaker Series. Please register for the Oct. 27 event. [ More… ]
Under normal circumstances, as the recipient of the Academic Senate's highest award, Professor Spero would have given his lecture last spring. But he was on sabbatical. So his lecture has been scheduled instead for Thursday, Oct. 30, on the topic, "The Paleoceanography Frontier: Geochemistry, Marine Plankton and 21st-Century Technologies." Register by Oct. 23 for the lecture and reception. [ More… ]
ANNOUNCEMENTS
Arboretum path closure through mid-November: In the Mediterranean Collection on the north side of the waterway, opposite Putah Creek Lodge, for bridge construction (in connection with trail improvement between the Putah Creek Lodge parking lot and Garrod Drive).
Wednesday, Oct. 22, 7-8 p.m., Room D, Student Community Center
The board will provide an update and invite comments from the audience. [ More… ]
Thursday-Friday, Oct. 23-24, Vanderhoef Studio Theatre, Mondavi Center for the Performing Arts
Oct. 23: Shinkoskey Noon Concert (Fang-Wei Luo's Lament, Gabriel Bolaños' Greenlandic, Phil Acimovic's Streaks and Points in the Night Sky, and Yu-Hsin Chang's Four Metaphors from the Autumn). Free. Oct. 24: Mozart's Quartet in G Major, K. 80; Bartók's Quartet No. 2; George Perle's Molto Adagio; and Smetana's Quartet No. 1 in E Minor (From My Life). Ticketed event. [ More… ]
Friday-Sunday, Oct. 24-26, Jackson Hall
The Akram Khan dance company plans only one U.S. performance of iTMOi ("In the Mind of Igor"), and it will be here, Friday night. … The San Francisco Symphony performs Saturday night. … And the Mermaid Theatre of Nova Scotia brings three of Eric Carle's beloved children's stories to life, through the magic of black light and fanciful puppets, in The Very Hungry Caterpillar, Sunday afternoon. [ More… ]
Saturday, Oct. 25
UC Davis pretty much has your Saturday all planned out for you. On the Davis campus alone, you'll find the Heroes Run and Valhalla Gala (a benefit for We Are Aggie Pride), the Animal Adoptathon, the arboretum's second of two plant sales this fall, and the University Airport's annual open house. The Sacramento campus is the venue for the BOO!-tastic Kids Health Fair, hosted by UC Davis Pediatric Ambulatory Services. [ More… ]
Saturday, Nov. 8, 8 a.m.-3 p.m., 1001 Giedt Hall
Program includes a review of state and local drought conditions, and information on simple yet effective methods to help reduce water use (including the best plants). Plus, learn how to conduct a "water audit" of your landscape. $45. Register online or by calling (530) 752-6642. [ More… ]