Dateline's next edition will come out Wednesday, Nov. 12, one day after the Veterans Day holiday.
— The Dateline staff
Spotlight on…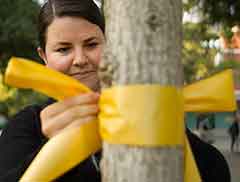 Annual ribbon display on the Quad recognizes America's servicemen and women past and present, including the 200 or so veterans who attend UC Davis. Read more about the ribbon display and the TRV Center that works with student veterans. Also, the Davis Student Veteran Organization will present a free screening of the documentary film The Invisible War, about sex assault in the military, Wednesday night (Nov. 5). [ More… ]
NEWS SUMMARY
UC Davis has advanced to the final stages of receiving institutional accreditation from the Association for the Accreditation of Human Research Protection Programs, or AAHRPP. [ More… ]
UC Davis students build a biosensor to quickly and easily separate extra-virgin olive oil from the pretenders — and the device earns a grand prize in the iGEM competition for International Genetically Engineered Machines. [ More, with video… ]
The campus community is invited to join Chancellor Linda P.B. Katehi and Provost and Executive Vice Chancellor Ralph J. Hexter at a reception next week for UC Davis' CAMPOS Faculty Scholars — the first to be selected by the Center for the Advancement of Multicultural Perspectives on Science. [ More… ]
The Cal Aggie Alumni Association has announced its 2015 Alumni Award recipients: Kevin Bacon '72, Professor Garen Wintemute, M.D. '77; Eamonn Dolan '83; Alfred Chuang, M.S. '86; René González Mejía '86; Gita Sai Ram '07; and Professor Emerita Emmy Werner, not an alumna but a Distinguished Friend of the University. The Awards Gala is scheduled for Feb. 6 in Sacramento. [ More… ]
Four staff members will comprise a panel this Thursday (Nov. 6) on the topic of their successful "Career Journeys" at UC Davis. The noon-hour program is open to everyone in the campus community, no reservations needed, as part of the Career Catalyst series presented by Staff Development and Professional Services. [ More… ]
In two naming ceremonies over the next week, UC Davis is honoring the late dancer and choreographer Della Davidson, a professor here from 2001 until her death in March 2012, and Muriel Gill, an alumna and accomplished equestrian. The Nelson Hall dance studio will be the Della Davidson Performance Studio, while the main barn at the Equestrian Center will be named after Gill. [ More… ]
Registration opened today (Nov. 4) for UC Davis' popular Mini Medical School on aging and medical science, to help prepare the participants for life's second half. The campus's WorkLife and Wellness unit is launching a health program of its own: Maintain Don't Gain, to help you keep from adding pounds during the holiday season. Registration for Maintain Don't Gain is set to open on Monday (Nov. 10). [ More… ]
UC Davis is testing three options to power the next version of SmartSite, and your input is welcome this fall. The campus plans to choose one of the three in winter quarter, then install it by fall 2015. [ More… ]
In conducting a test of the WarnMe system next week, UC Davis will for the first time share the notification automatically through Facebook and Twitter. Before the test, officials urge all faculty, staff and students to visit the WarnMe website to check that their contact information is up to date and includes personal email addresses and phone numbers. [ More… ]
While you're thinking about what you're going to do next Tuesday (Nov. 11), a university holiday, you should also think about what you're going to do the next day, which will be your last chance to attend open enrollment presentations and help desks on the Davis campus. Plus…
Mail Services Holiday Food Drive continues
Enroll now for Transitioning to Retirement
#YourSchoolYourView by Joey Koo: "Summer fades to fall." … Dumbledore visits UC Davis! … "Piano-playing cats? It's a thing!"
ANNOUNCEMENTS
Arboretum path closure through mid-November: In the Mediterranean Collection on the north side of the waterway, opposite Putah Creek Lodge, for bridge construction (in connection with trail improvement between the Putah Creek Lodge parking lot and Garrod Drive).
Causeway Classic x 3
Blood drive — In which UC Davis tries to register more donors than Sacramento State did during its two-day drive in October. Faculty and staff: If you're crunched for time, ask for a "fast-track pass" to go to the front of the line. Today-Wednesday, Nov. 4-5, 10 a.m.-5 p.m., bloodmobiles on the Quad.
Luncheon — Featuring the head coaches and team captains, and bands and spirit squads. Thursday, Nov. 20. Registration, 11:30 a.m.; lunch and program, 12:15 p.m., at the Doubletree Hotel, Sacramento.
Football game — The 61st annual Causeway Classic, kickoff 1 p.m. Saturday, Nov. 22, Aggie Stadium.
NEW EXHIBITIONS: Senses Cultural and IndiVisible
Enduring Power: The Middle Eastern and Iranian Woman's Story — Twelve Middle Eastern and Iranian female photographers present stunning photos of other Middle Eastern and Iranian women, portraying their public and private struggles, joys, aspirations and realities. The exhibition is from the Sacramento-based Senses Cultural nonprofit organization. Through Nov. 30, Buehler Alumni Center.
IndiVisible: African-Native American Lives in the Americas — A traveling exhibition from the Smithsonian Institution, about the intersection of American Indian and African American people and cultures — a shared history that has long been invisible to many in the United States. Through Dec. 19, Peace Lounge, Cross Cultural Center (in the Student Community Center). Exhibition launch, 1-2 p.m. Thursday, Nov. 13, Art Lounge, Cross Cultural Center. (IndiVisible also includes a film and a symposium, Nov. 13-14.)
Wednesday, Nov. 5, noon-1 p.m., 18 Da Vinci Building
The WorkLife and Wellness Brown Bag Series goes on the road with Rose Zahnn of Healthy Habits Studio. Balletone: Standing Flow is a fusion-style conditioning program, designed specifically for the nondancer, blending training techniques drawn from dance, Pilates and fitness. [ More… ]
Wednesday, Nov. 5, 8 p.m., Jackson Hall, Mondavi Center for the Performing Arts
He's a MacArthur "genius" fellowship recipient, blogger and Musical America's 2014 Instrumentalist of the Year, and he's back at UC Davis, this time as a solo performer. Program: Brad Mehldau's Brahms-inspired Sonata, plus works by Haydn, Beethoven, Mozart and Schumann. [ More… ]
Thursday, Nov. 6, 11:30 a.m.-1 p.m., Shields Library Instruction Lab (first floor)
The Campus Community Book Project presents this documentary about Nicky Gottlieb, who at age 21 was diagnosed with Asperger's Syndrome, a high functioning form of autism. Free. [ More… ]
Saturday, Nov. 8, 8 a.m.-3 p.m., 1001 Giedt Hall
Program includes a review of state and local drought conditions, and information on simple yet effective methods to help reduce water use (including the best plants). Plus, learn how to conduct a "water audit" of your landscape. $45. Register online or by calling (530) 752-6642. [ More… ]
Storytime Through the Seasons: Under the Redwood Tree — The Arboretum Ambassadors present this all-ages program that combines nature, reading, games and art. 1-3 p.m. Sunday, Nov. 9, Wyatt Deck (rain location: 146 Environmental Horticulture). Free.
Walk with Warren — Warren Roberts, arboretum superintendent emeritus, leads this tour in the west-end gardens. Noon-1 p.m. Wednesday, Nov. 12. Meet at the gazebo. Free.
THEATER: 'The Female Wits' and The Gambling Lady
"The Female Wits" — Illustrated lecture about female playwrights of the 17th and 18th centuries. Performed by Fidelis Morgan (author of a book of the same name), accompanied by three students from the Department of Theatre and Dance, where Morgan is the Granada artist in residence this quarter. Noon Friday (Nov. 7), Lab A, Wright Hall.
The Gambling Lady (The Bassett Table) — Written by Susannah Centlivre, directed by Granada Artist-in-Residence Morgan, who included the 18th-century play in her book The Female Wits and thereby rescued The Gambling Lady from near oblivion. The play has all the ingredients Morgan loves: It's theatrical, has a racy subject — gambling — and features a large ensemble cast, including some very strong female characters. Nov. 13-23, 8 p.m. Thursday-Saturday, and 2 p.m. Sunday, Main Theatre, Wright Hall. Tickets.