Spotlight on…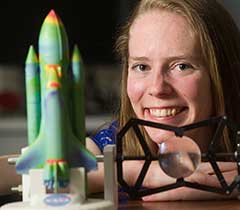 Ashley Coates is blasting off from UC Davis and toward a career in the space industry as this year's recipient of the University Medal for excellence in undergraduate studies, outstanding community service, and the promise of future scholarship and contributions to society. [ More… ]
NEWS SUMMARY
Chancellor Linda P.B. Katehi puts in effect her earlier announced plan to divide Administrative and Resource Management, and appoints Kelly Ratliff and Karl Mohr as interim leaders for the newly named Financial Affairs, and Capital Planning, Facilities and Resources, respectively. In addition, Katehi names Professor Prasant Mohapatra, interim vice provost of Information and Educational Technology for the last year, to lead the campus's effort toward further administrative realignment and transformation. [ More… ]
Enrique Lavernia announces that he will step down as dean of the College of Engineering a year from now. He served as dean from 2002 to 2009, then as provost for nearly two years before returning to the dean's office in December 2010. Chancellor Linda P.B. Katehi and Provost and Executive Vice Chancellor Ralph J. Hexter praise Lavernia for "a decade of dedicated leadership." Katehi and Hexter said they will engage with the college faculty, staff and other constituents to plan a national search for a new dean; that search is expected to begin in the fall. [ More… ]
Commencements end Sunday and summer construction starts Monday (June 16) at the north entry, where the campus will rebuild Howard Way and the Memorial Union bus terminal. The terminal will be out of service through the end of September; instead, Unitrans and other transit agencies will use the Silo Terminal or bus stops on Hutchison Drive and Russell Boulevard. [ More, with slideshow… ]
It isn't the soccer that Professor Sanjay Joshi cares about most when he watches the World Cup opening ceremony this Thursday (June 12). It's the paralyzed teen who, if all goes well, will take a few steps and kick a soccer ball — demonstrating a robotics project called Walk Again, for which Joshi coordinates the international team that is developing the controls. [ More, with video… ]
It's one of the senior projects at the third annual Engineering Design Showcase, held last week. [ More, with video… ]
Our ability to make choices — and sometimes mistakes — might arise from random fluctuations in the brain's background electrical noise, according to a recent study from the Center for Mind and Brain. [ More, with video… ]
Plant scientist Paul Gepts says the newly reported whole-genome sequence for beans — he was a co-author on the project — is shedding light on nitrogen fixation, disease resistance and how beans came to be domesticated. [ More, with video… ]
UC and several partners have released version 2 of the DMPTool, which helps researchers and their institutions create effective data management plans required by the federal government. [ More… ]
Tomorrow morning, Wednesday (June 11), start the countdown: 10 days to go on Fix 50! The contractor started work on the outside lanes, westbound, last Friday, after finishing the inside lanes five days ahead of schedule. If C.C. Myers maintains that pace, he'll be done — that is, completely done with the traffic-interfering portion of Fix 50 — on June 20. In the meantime, don't forget to advise family and friends of potential delays en route to commencement. [ More… ]
UC "is showing its commitment to being a leader in LGBT issues," Provost and Executive Vice Chancellor Ralph J. Hexter says in response to President Janet Napolitano's announcement June 3 that she will appoint a president's advisory group on lesbian, gay, bisexual and transgender issues. She made the announcement just three days after receiving a report from a systemwide task force for which Hexter served as co-chair. [ More… ]
Registration begins today (June 10) for the UC Living Well Move More Challenge — during which UC encourages employees and retirees to exercise for at least 30 minutes, three days a week, for six weeks, June 23 to Aug. 3. For each of us who succeeds, we will earn points toward this year's UC Living Well incentive — if we're enrolled in a UC-sponsored medical plan and eligible for the incentive. [ More… ]
American History TV this weekend presents an actual UC Davis lecture: "Alcohol Use in the Early American Republic," by the Pulitzer Prize-winning Alan Taylor. Plus …
All admissions advising moves to Welcome Center
Limited library services and-or closures, June 13-15
'One' HR runner's Sacramento-to-Davis time: 3:34
Staff adviser designate appointed
Recording artist Drake rocks in Aggie gear — and fires up Facebook. … @UCDavisMrktg tweets about the Comstock's Magazine cover for June, featuring the Meat Lab and the rise of female butchers. … And, for some comic relief amid finals, check out @alymbo's cow photo on Instagram.
"Mechanisms and Adult Treatments for Neurodevelopmental Disorders" — UCLA's Alcino J. Silva, professor of neurobiology, psychiatry and psychology, and director of the Integrative Center for Learning and Memory, in the MIND Institute Distinguished Lecturer Series. (June 11)
"Lactation: The Importance of Feeding Babies and Bacteria" — A conversation with Professor Bruce German, director of the Foods for Health Institute, in the "Science Café" series hosted by Jared T. Shaw, assistant professor of chemistry. (The "café" is June 11, but, if you can't wait, you can listen to German and Shaw on Capital Public Radio's Insight program at 8 tonight).
"Nutrition for a Healthy Brain" — Martha Clare Morris, professor of epidemiology, director of the Section of Internal Medicine, and assistant provost of community research at Rush University Medical Center (Chicago), in the Alzheimer's Disease Center Distinguished Lecturer Series. (June 11)
ANNOUNCEMENTS
UC Davis Signature Research in Genomics Program — Offering seed funding for projects that require use of high throughput DNA sequencing to address grand-challenge problems in agricultural, environmental and health sciences. (Information sessions June 12 on the Davis and Sacramento campuses; applications due June 18)
Dairy Road closure, June 17-20 — For utility work associated with the construction of the field hockey stadium across from the Tercero student housing complex.
Today-Wednesday, June 10-11
Creative writing M.A. students read from their theses, 7 p.m. June 10 on the Wyatt Deck. ... Warren Roberts, arboretum superintendent emeritus, leads a walk in the west end gardens, noon to 1 p.m. June 11 (meet at the gazebo). [ More… ]
Friday, June 20, 5:30-7 p.m., Häagen-Dazs Honey Bee Haven
The haven's second open house in a month comes amid National Pollinator Week. Talk with experts about bees and bee gardens, and take a home a free pack of zinnia seeds (while the supply lasts). [ More… ]
Wednesday, June 25, 5-7 p.m., Conference Center Ballroom
Honoring all staff and faculty who have retired, or will retire, during the 2013-14 academic year. The reception, with hors d'oeuvres and entertainment, is sponsored by the Retiree Center, the Retirees Association and the Emeriti Association. Registration requested by June 18 and may be arranged online (click on "Event Registration") or by calling the Retiree Center, (530) 754-7105. [ More… ]
Nelson Gallery and Pence Gallery
Works by graduate students in studio art. Eight M.F.A. candidates have assembled for future reference, continuing through June 21 at the Nelson; while first-year M.F.A. students have assembled Dumpstr Dive, running through June 24 at the Pence in downtown Davis. [ More… ]
Through June 30, Buehler Alumni Center
Students present their Science and Society 40 final projects — 50 photographs exploring the conceptual connections between art and science and the role of art and science on the UC Davis campus. Terry Nathan, professor, Department of Land, Air and Water Resources, teaches SAS 40 as part of the Art-Science Fusion Program. [ More… ]