We didn't plan on publishing again this summer until July 15, but we had a lot to share — so here's a bonus Dateline UC Davis. Look for us again on July 29.
— The Dateline staff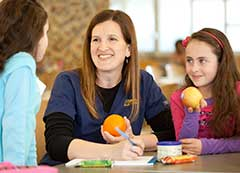 "The earlier you can impact the way children are fed, the greater their chances for healthier lives," says pediatric nurse Christy Solorio, who, for her master's thesis at the Betty Irene Moore School of Nursing, collaborated with an interprofessional team of UC Davis researchers who are conducting a multiyear study to determine the most effective early interventions to childhood obesity. "I see their pain when obese children are not able to do the things that kids should be doing." [ More… ]
NEWS SUMMARY
UC Davis officials are renewing their call for water conservation, saying the California drought has reared its ugly head on the west campus where the water table at Domestic Well No. 7A dropped 82 feet from April to June. The campus has purposely cut the well's pumping rate and is using other domestic wells to make up the difference. Therefore, no immediate impacts to the campus are anticipated, said David Phillips, director of utilities. He said a new incentive program will provide rebates to campus customers for conserving water. [ More… ]
Viji Murali, an IT veteran in higher education, has been named UC Davis' chief information officer and vice provost of Information and Educational Technology. Murali is coming to UC Davis from Washington State University, where, since 2007, she has served as vice president for Information Services and CIO for the WSU system. [ More… ]
UC Davis is front and center as the UC system launches the UC Global Food Initiative aimed at bolstering the world's food supply — making it healthier, larger and sustainable for a population headed toward 8 billion by 2025. "At UC Davis, we have the additional benefit of the newly founded World Food Center, which will work with the UC Global Food Initiative to inventory the expansive expertise we have in agriculture across the UC system and help turn that knowledge into actions that address the global food challenges we face," says Helene Dillard, dean of the College of Agricultural and Environmental Sciences. [ More, with video… ]
Chancellor Linda P.B. Katehi has appointed two committees, one to craft an update of the Vision of Excellence and the other an advisory group for a possible new campus in the Sacramento area. [ More… ]
UC President Janet Napolitano has rescinded a policy that barred the university from investing directly in companies that commercialize technology that has emerged through UC research. [ More… ]
Water snakes from the eastern United States are invading California, most likely because people are "setting free" their pets. But freedom for the nonvenomous snakes is a potential death sentence for native California species, according to a UC Davis study. [ More… ]
Peter Marler, who spent a lifetime studying the call of the wild — first the calls of birds and later of primates — and applying the calls to neuroscience, dies at age 86. … Thomas W. North, a biochemist who contributed to therapies for HIV infection and AIDS, by way of his groundbreaking discoveries in animal models, dies at age 64. [ More… ]
The ASUCD recently presented its 2013-14 Excellence in Education Awards, one in each undergraduate college, plus educator of the year: Rebekka Andersen, an assistant professor in the University Writing Program. … Plus, an award for Professor Emeritus Cruz Reynoso, School of Law, and re-election for the law school dean, Kevin R. Johnson. … Professor Zhe Chen of the Department of Human Ecology has been named to the Chinese Academy of Sciences' Scientific Review Board. … And the Graduate School of Management's MBA student recruitment brochures are CASE winners — again! [ More… ]
UC Davis' Breastfeeding Support Program, which provides lactation sites and other services, is setting a good example nationally and internationally, receiving "Care Awards" and landing a featured spot (and a video) on the Womenshealth.gov website. [ More, with video… ]
UC Davis soars in many ways: In diversity and the Principles of Community. In electronic accessibility, and understanding its relationship to diversity. In inclusion, by fostering an environment where, for example, a blind student can excel in chemistry. In the recruitment, hiring and retention of employees with disabilities. In leadership in the campus community and the surrounding community, as exemplified by Police Chief Emeritus Calvin E. Handy. And in how we address people by their preferred names. And we soar every year at Soaring to New Heights, where we honor the people who help us soar. [ More, with slideshow… ]
Individual information sessions, Aug. 5 to Sept. 10, will cover 15 programs, from Accounting, Conflict Resolution and Construction Management, to Supervisory Skills and Management Development, Web Development, and Workplace Health and Safety. The information sessions are free; UC Davis faculty and staff, as always at UC Davis Extension, are eligible for discounts of 20 percent to 50 percent on program fees. [ More… ]
RSVPs for the tabletop exercise are being taken from campus departments and units with UC Ready emergency plans in progress or completed. Plus …
Survey underway on UC-sponsored medical plans
New Memorial Union bus terminal takes shape
Medical center adds same-day surgery site in Davis
Lyft, Uber, Airbnb: Under review, but not banned
Bloodmobiles drive off with 320 pints
Fleetwood Mac and the Davis Dance Revolution pop up in comments when UC Davis Facebook asks for memories of Freeborn Hall. ... UC Davis soil scientist on a vineyard visit. ... @ucdavismba tweets about an alum with a dream job.
Fuel cells, red-blue politics, and bitcoin and beyond — those are the topics for three upcoming lunchtime talks at UC Center Sacramento. Each program, July 31, and Aug. 7 and 14, is scheduled from noon to 1 p.m.; admission is free and open to the public. [ More… ]
ANNOUNCEMENTS
Annual systemwide payroll disclosure — The UC Office of the President has notified faculty and staff that the university has made its annual public disclosure of employee compensation.
Memorial Union Terminal reconstruction — The terminal is closed all summer; Howard Way is open only to the north entry parking garage; no access from Howard Way to Tennis Court Lane; and no through traffic on Tennis Court Lane from California Avenue to Howard Way.
Tuesday, July 15, 8 p.m., Jackson Hall, Mondavi Center for the Performing Arts
The guitarist and his group make a stop in Davis in a warmup for the U.S. leg of a world tour. [ More… ]
Thursday, July 17, noon-1 p.m., multipurpose room, Student Community Center
A dynamic, breath-based yoga practice in which you will develop heightened awareness, discover fluid strength, access your breath more deeply, and awaken new levels of vitality and openness in your body. No preregistration. [ More… ]
Sunday, July 20, and Saturday, Aug. 2, 10 a.m.
July 20 (meet at the Buehler Alumni Center): A tour of the Mary Wattis Brown Garden of California Native Plants, showing how a beautiful garden doesn't require a lot of water. … Aug. 2 (meet at the gazebo): Need plants that can take the heat? Try succulents! They will surprise you with their diversity and beauty, even in mid-summer. [ More… ]
Mondays, July 21, and Aug. 4 and 18, 7-9 p.m., lawn outside the Rec Pool
Take a swim, if you like, then stay for the free music every other Monday through Aug. 18. [ More… ]
Saturday, July 26, 1-4 p.m., 1124 Academic Surge
The museum's last open house of the 2013-14 academic year. Free. [ More… ]
Thursday, July 31, noon-1 p.m., multipurpose room, Student Community Center
A brown bag program on developing your emotional intelligence and creating an action plan to apply what you learn to your career. No preregistration. [ More… ]
Sunday, Aug. 3, 7 p.m., Jackson Hall, Mondavi Center for the Performing Arts
The Grammy Award-winning Chris Thile (mandolin/vocals), Sara Watkins (fiddle/vocals) and Sean Watkins (guitar/vocals) have reunited for an album, A Dotted Line, and a U.S. tour. This will be the group's first performance in Davis. [ More… ]
Through Sept. 12, various venues
Octopus's Garden, through Aug. 1, Craft Center Gallery; and Screen Prints 1970: The Art Institute of Chicago, through Sept. 12, C.N. Gorman Museum. [ More… ]