Spotlight on…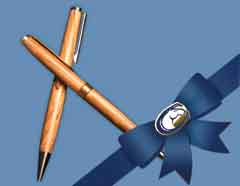 Have you started your gift list, for yourself or others? How about writing it with a pen made from olive wood from the campus? The pen from the UC Davis Arboretum and Public Garden is one of our many gift suggestions that are campus cheerful, campus grown, campus inspired, campus comfy, campus glittery and campus thoughtful. [ More, with slideshow… ]
NEWS SUMMARY
UC President Janet Napolitano responded favorably to California Senate Democrats' proposal today (Dec. 2) to keep tuition flat for in-state students and boost general fund spending on higher education by $156 million. "I welcome and applaud the Senate Democrats' interest in maintaining the excellence, access and affordability of California's system of public higher education," Napolitano said in a statement. [ More… ]
The Davis campus earns best-in-the-nation accreditation from the Professional Grounds Management Society, recognizing not only Grounds and Landscape Services but its partners — the arboretum and Putah Creek Riparian Reserve — in the UC Davis Arboretum and Public Garden. [ More, with slideshow… ]
The Senate and Federation Library Survey concluded Nov. 15 with an impressive overall response rate of 26 percent. The survey result dataset will be delivered to the library soon; findings and analyses themselves will be widely shared and discussed with the UC Davis community, beginning in winter quarter. [ More… ]
UC Davis Extension bids farewell today (Dec. 2) to the 58 Mexican university students and professors who were the first to come here as part of UC President Janet Napolitano's UC-Mexico Initiative, instituted earlier this year. The visitors participated in a four-week English language and American culture program run by UC Davis Extension's Center for International Education. [ More… ]
Plant biology professor William Lucas and others identify the genes involved in making cucurbitacins — which not only are responsible for the bitter taste (it protects the plants from predators) but have the potential to treat cancer and diabetes. [ More… ]
Get a closer look at California's 1,600 bee species, dig into food through poetry and art, explore the darker side of Cinderella and follow an exploration of spiritual practice through three decades of letters with poet Gary Snyder. The writings range from academic works examining food safety and pollution to a supernatural story for young readers and an erotic novel. [ More… ]
UC Davis leaders are scheduled to be at the United Nations next week to join dozens of other universities in pushing to end food insecurity. Plus…
Police invite applications for Community Academy
Surge IV burglary nets computers, bike, chess set
Save the date: ADMAN Annual Conference
Running of the Turkeys follow-up: Team Physics raises $5,000 for the Yolo Food Bank, and Professor Richard Scalettar wins best costume! See the Facebook album … Law school's class of 2014 Bar exam pass rate exceeds 86 percent. … Instagram user haoyiting says hello to December, in a cool collage.
ANNOUNCEMENTS
Finals, shopping and other obligations are bearing down, but try to make time for some theater and music before the winter break: The Department of Theatre and Dance gives The Fantasticks a magical aura in the Wyatt Pavilion Theatre, while the music department presents the Baroque, Jazz and Empyrean ensembles, Igor Stravinsky's A Soldier's Tale, and the University Chorus and Symphony Orchestra. The Mondavi Center schedule includes Cantus (All is Calm), Mariachi Sol de Mexico ("A Christmas Spectacular") and American Bach Soloists (Messiah). [ More… ]
EXHIBITIONS: One concludes with an auction this week
Through Dec. 19
Thursday, Dec. 4, noon-1 p.m., Meeting Room D, Student Community Center
Constance Stevens leads this program on writing new resumes and revising old resumes, to make them stand out in the crowd and lead to interviews. She'll ask each participant to explore his or her strengths and accomplishments, and discuss how to craft and design a resume to be reader friendly and customized to the desired position. Free; no preregistration. [ More… ]
Sunday, Dec. 7, 11:30 a.m.-5 p.m.
See the decorations at six homes in Davis in this fundraiser for the University Farm Circle's scholarship endowment, which benefits UC Davis students. The holiday event includes refreshments and a boutique. Tickets: $25 in advance, $30 day of the event (purchase at International House, 10 College Park). [ More… ]