Spotlight on…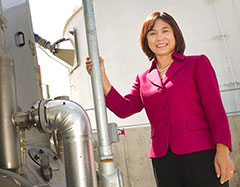 Today, on Earth Day, UC Davis officially unveils its Renewable Energy Anaerobic Digester, which is feasting on food and yard waste, converting it into clean energy that feeds the campus electrical grid. Professor Ruihong Zhang invented the technology, and UC Davis partnered with CleanWorld to build the campus plant. It is designed to convert 50 tons of organic waste to 12,000 kWh of renewable electricity each day. [ More, with video… ]
NEWS SUMMARY
With Fix 50 underway, as of early this morning (April 22), many of us are asking one another around campus: "How'd you get to work today?" The bigger question during Fix 50's Stage 1 comes this afternoon, for those of us who commute through the heart of Sacramento: "How are we getting home? [ More… ]
UC Davis offers freshman admission to more than 24,550 students for the fall and expects to enroll about 5,200 for a class that promises to be one of the most diverse and academically impressive in campus history. As a system, UC extended offers of admission to a record high 86,865 prospective freshmen, including more Californians, more Latinos, and a broad range of out-of-state and international residents. [ More… ]
We've prepared a Drought Response Action Plan to cut campus water use by 20 percent, we've organized UC's Drought Science, Policy and Management Summit (April 25), and we've launched a project called "Farmer and Rancher Voices from the Drought." Also check out our California Drought Watch website. [ More… ]
UC Davis hosts global health leaders from California and beyond during the fourth annual UC Global Health Day, this Saturday (April 26). Keynote speakers will include UC President Janet Napolitano, former U.S. secretary of Homeland Security and governor of Arizona. [ More… ]
This event, in its 25th year, comprises poster and oral presentations and an arts exhibit, Friday and Saturday (April 25-26), on subjects ranging from identifying the effects of Twitter hashtags on the German language to engineering a harp that uses lasers in place of strings. [ More… ]
Students and others are sharing their personal stories as the campus launches a major Web-based initiative, Each Aggie Matters, to encourage students to feel comfortable talking about mental health and seeking help. "It does not make you weak. It makes you stronger," former ASUCD President Carly Sandstrom says. [ More… ]
A musical tribute and a symposium are in store next week for D. Kern Holoman, who led the UC Davis Symphony Orchestra for 30 years until stepping down in 2008, and is now taking emeritus status as a professor in the Department of Music. Separately, the department's Keyboard Festival, May 1-4, will feature three evening concerts (including one by the symphony); two free, daytime concerts; and a forum. [ More… ]
The Office of Research will hold its third annual open house, Wednesday, April 30, featuring exhibits and panel discussions. Plus …
Doc helps save the day on Southwest flight
Thank-a-Thon: Handwritten notes to donors
Catch up on Napolitano's Web chat with staff
Orchard Park housing's closure delayed
WORKSHOP
ANNOUNCEMENT
Through midnight Sunday (April 27) on the air (90.3 FM) and online
In this 24-hour-a-day effort, DJs divert from their regular programming to ask for listener support, as the campus radio station celebrates its 50th anniversary. [ More… ]
Today-Wednesday, April 22-23, 9:30 a.m.-5 p.m., Quad
BloodSource collects blood, of course, but tissue samples, too, from a simple swab of the inside of your cheek — to determine if your stem cells are a match for people like UC Davis postdoc Chao Wei Yu, who is battling leukemia and needs a marrow transplant. [ More… ]
Wednesday-Thursday, April 23-24, noon-1 p.m.
"The Organized Office" (April 23, 18 DaVinci Building, near UC Davis Extension, south Davis), in the WorkLife and Wellness series. "Getting Unstuck" (April 24, Meeting Room E, Student Community Center), in the Career Catalyst series. No preregistration. [ More… ]
Thursday, April 24
It's like a mini-Picnic Day for your children, with guided and unguided tours, and science demonstrations. Most activities do not require advance registration. [ More… ]
Thursday, April 24, noon-1 p.m., Wyatt Deck
Kulkarni teaches Indian classical music and writes poetry in Hindi, Marathi and English. Mitchell, a Ph.D. candidate at UC Davis, explores the intersection of race, femininity and class in her poetry and prose. Open mic after the featured readings. [ More… ]
Thursday-Friday, April 24-25, noon-1 p.m. both days
Thursday (Meeting Room D, Student Community Center): A talk by Professor David Hawkins, Department of Neurobiology, Physiology and Behavior, on the benefits of regular physical activity-exercise; and a 15-minute movement component on how to use a resistance band. Friday (Hickey Gym): Exercise biology and biomedical engineering students assess your readiness for exercise. [ More… ]
Friday, April 25, 5-7 p.m., Craft Center Gallery
Craft Center veteran Paul Ulbrich presents a diverse collection of objects, created in pursuit of the curious and the interesting conceptual thoughts of what might be possible. Exhibition runs through May 2. [ More… ]
Friday, April 25, 8:30 p.m., Varsity Theatre, 616 Second St., Davis
Special showing of this new documentary, followed by a question-and-answer session with Walter Murch, the film's editor, and UC Davis physicists. $12. [ More… ]
Saturday, April 26, 8 a.m.-1 p.m., firehouse, 625 Kleiber Hall Drive
Tenth annual benefit event: The firefighters do the cooking, you do the eating (pancakes, eggs, sausage and more), and all proceeds go to the Firefighters Burn Institute. $7 presale (online), $8 at the door. [ More… ]
Saturday-Sunday, April 26-27
Plant sale (April 26, 9 a.m.-1 p.m., Arboretum Teaching Nursery). Fun with Food: Eco-Friendly Tie-Dying (April 27, noon-2 p.m., gazebo). Bring something white — T-shirt, socks, shorts, pillowcase, you name it! — for tie-dying in plant- and food-based eco-friendly dyes. [ More… ]
Saturday, April 26, 11 a.m.-3 p.m.
Educational and fun, too. Learn about the institute's research (and how you can participate), and the many resources available to families, individuals, educators and other professionals. Information will be available in English and Spanish. Plus, art stations, balloon artists and magic tricks, a surfing machine, climbing wall and bounce house. [ More… ]
Saturday, April 26, 1 p.m., Dobbins Field
The Police Department is giving out Golden Tickets for Aggie baseball vs. UC Irvine. Admission is free for students, no matter what, but every student with a Golden Ticket (ask any police officer for one) will get a hot dog, a one-of-a-kind "Aggie Police" button and a chance to win prizes, including bicycles. Faculty and staff can get free admission with Golden Tickets of their own, available from officer Ray Holguin; contact him by phone, (530) 601-3867, or email. [ More… ]
Saturday, April 26, gates open 5:30 p.m., kickoff 7:30, Hughes Stadium
Prematch festivities, including Children's Hospital and Trauma Prevention booths, providing information and giveaways. Tickets start at $5, using this discount link with promo code "UC Davis." [ More… ]
Saturday, April 26, 7 p.m. (doors open 6 p.m.), Freeborn Hall
The student group Danzantes del Alma presents its annual show. Flat-rate advance tickets $10 available at the campus Ticket Office (Aggie Stadium) and online. At the door: general $15, students $13, children $6. [ More… ]
Sunday, April 27, noon-4 p.m., Central Park, Fourth and C streets, Davis
Campus and community come together for a free concert with Jadoo, Butterside Down and Dank Ocean; UC Davis a cappella groups The Spokes and The Afterglow; and KDVS "spinning some of their rad records." Sponsored by the ASUCD and the city of Davis. Facebook event page. [ More… ]