Friday Update has a new publication day and a new name: Dateline UC Davis — and this is the first edition. Read more about the change.
— The Dateline staff
Spotlight on…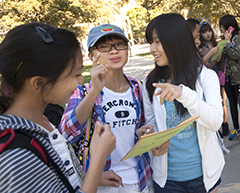 They have come here from abroad for a quality education, and UC Davis is taking a new approach to ensure they get it and everything else that comes with being an Aggie. One new effort invites international students to participate in Summer Start, incorporating orientation and social activities (like a scavenger hunt, pictured) with coursework in language and culture. [ More… ]
NEWS SUMMARY
In rankings published today (Sept. 10), UC Davis is ninth among national public universities in U.S. News & World Report's 2014 "Best Colleges," and 85th (up from 100 last year) in the QS World University Rankings. "We provide a world-class education, and our faculty are among the leaders in their fields," Chancellor Linda P.B. Katehi says. [ More… ]
UC Davis' new Confucius Institute, developed in partnership with China to promote a better understanding of Chinese culture, presents a free program of song and dance during an opening celebration Monday night (Sept. 16) at the Mondavi Center for the Performing Arts. The UC Davis institute will focus on food and beverage — the culture and the science — and will have celebrity chef and UC Davis alum Martin Yan as culinary adviser. [ More… ]
California farmers feel more threatened by climate policy than they do by climate change, according to research data from surveys and interviews in Yolo County, where agriculture accounts for 80 percent of land use. Giving farmers and ranchers a voice and engaging them in the policymaking process from the outset "hopefully will alleviate their concerns in some ways," says lead author Meredith Niles, a doctoral candidate in the Graduate Group in Ecology and Department of Environmental Science and Policy, lead author of the study. [ More… ]
Project scientist Evan Fletcher of the Alzheimer's Disease Center says the brain's wishbone-shaped fornix — specifically its degeneration — "could be a very early and useful marker" in predicting cognitive decline long before healthy older people exhibit clinical symptoms of memory loss or dementia. [ More… ]
UC Davis geologist Qing-zhu Yi and an international team have devised an index to better understand how oil travels underground, making the oil easier to find and preventing environmental damage from drilling in the wrong place. With further research, Yin says, the method could be used to trace pollutants caused by oil spills and guide environmental mitigation in such instances. [ More… ]
Law students from China came here this summer for three weeks of training in the American legal system, in a sign of the School of Law's deepening relationship with the China University of Political Science and Law. Also, with fellowships from the law school and UC Davis Extension's Center for International Education, two Mexican Consulate officers — one from Fresno and the other from Los Angeles — attended the law school's regular summer program "Orientation in U.S. Law." [ More… ]
Six environmental health and safety professionals (plus supervisor Sue Littlefield) have been hired — one for each school and college. This team will be conducting comprehensive annual safety reviews of all research laboratories campuswide. [ More… ]
Tailgating changes. Food trucks. New coach. And two-for-one tickets for faculty and staff. It's going be a great home opener for the Aggie football team this Saturday (Sept. 14). Kickoff is set for 6 p.m., but pregame festivities begin at 3 on Aggie Tailgate Field. Parking passes there are sold out, but everyone's invited to walk in for such activities as the Aggie Spirit Squad, Gunrock and the Cal Aggie Marching Band-uh! — and, new for this year, the football team's "Victory March," two hours before game time, as the players head for the locker room. [ More… ]
No announcements were issued this week.
Wednesday-Thursday, Sept. 11-12, 5:10 p.m., 1113 Social Sciences and Humanities Building
The Battle of Chile: The Coup d'Etat, Wednesday; and Estadio Nacional (National Stadium), Thursday. Free. Presented by the Hemispheric Institute on the Americas and the Chilean Students Association. [ More… ]
Thursday, Sept. 12, 5:30-7:30 p.m., UC Davis Health System
Presented by the UC Davis Children's Hospital, event includes health and safety information, a Kids Zone and a Radio Disney interactive show, on the lawn next to the Shriners Hospital for Children, 45th and X streets, Sacramento. Free admission. The UCDHS Farmers Market will be going on at the same time. [ More… ]
Friday, Sept. 13, 6-8 p.m., Arboretum Terrace Garden and Lois Crowe Patio
Wine tasting for Friends of the UC Davis Arboretum. For members only, including those who sign up at the gate (next to Whole Foods Market at the Davis Commons shopping center). Suggested donation: $5 or a used shovel (for a public art project). More at the arboretum. [ More… ]
Monday, Sept. 16, 7-8:30 p.m., Brunelle Performing Arts Center, Davis High School
Having been exempted from the federal government's No Child Left Behind Act, some school districts are innovating in other ways to help students succeed. Co-sponsored by the School of Education and the Yolo County School Boards Association. [ More… ]