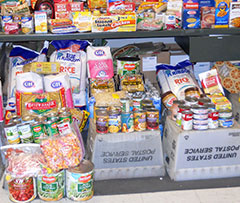 It's a record: The Mail Services Holiday Food Drive, which ended Friday, brought in 2,614 pounds! Other food and toy drives are still underway, and here are two more ways to donate: Attend the Aggie basketball doubleheader today (Nov. 26) or join Team UC Davis in the Running of the Turkeys (Nov. 28). Also, staff members of the Veterinary Medical Teaching Hospital are seeking support for Holiday Pet Baskets, for pets belonging to homeless people. [ More… ]
NEWS SUMMARY
Helene Dillard, associate dean and head of Cooperative Extension at Cornell, takes office Jan. 27 at the university where she earned a master's degree in soil science in 1979 and a doctoral degree in plant pathology in 1984. [ More, with video… ]
Our newest fellows are recognized for contributions to science and society in such fields as X-ray synchrotrons, plant biology, cancer care and primate behavior. With 10 more AAAS fellows, UC Davis now boasts a total of 150. [ More… ]
The university's newest community has racked up an impressive list of accomplishments: It is home to the university's prototype research "hub" and the first community college on a UC campus. And, as a year's worth of data prove, West Village is well on its way to achieving its goal of zero net energy use, having produced 87 percent of its own energy supply. [ More… ]
If you're into wine, you probably know about terroir — the unique blend of a vineyard's soils, water and climate. Now, UC Davis researchers have evidence of the unseen but fairly predictable microbial terroir, after using DNA sequencing to identify patterns of fungal and bacterial communities that inhabit the surface of wine grapes. [ More… ]
Students share messages of health and hope on the occasion of the Great American Smokeout, and promote the new policy — effective Jan. 1 — that will make the Davis campus entirely smoke- and tobacco-free, indoors and out. … Also, check out "Sustainable Design" students' ideas to reuse the campus's concrete ashtrays. [ More… ]
A leading scholar on the economics of education will be the speaker for the first of this year's Provost's Forums on the Public University and the Social Good. Stanford economics professor Caroline Hoxby will address "Opportunity, Meritocracy and Access to Higher Education," at 3 p.m. Monday (Dec. 2). [ More… ]
He's the "Pope of Foam," Charlie Bamforth, a UC Davis professor, the star of The Art & Science of Beer, a video that is up for a 2013 Taste Award. It's a viewers choice award — and your vote can help make the Bamforth video the winner. [ More, with video… ]
Referring to racial slurs directed at students recently, Chancellor Linda P.B. Katehi says: "When one member of our community is wounded by the words and actions of others, we, as a university, must unite to stand against cruelty and intolerance." … The workshop series "Transitioning to Retirement" is set to begin in January for academics and staff members who are within five years of retirement. … Repro Graphics offers InDesign and printing course — for beginners, not designers. … Save the date: ADMAN Mid-Management Conference, March 12. … For the pet owners among us: Remember, you get a 10 percent discount at the Veterinary Medical Teaching Hospital and its Community Practice for small animals. … No brown bag: Organizational Excellence and Shared Services Center cancel meeting. [ More… ]
Artist Josephine Halvorson — She creates on-site, making oil paintings that serve "as a record of the artist's conversation with the world and a testament to time spent," according to the lecture announcement from the Department of Art Studio (Nov. 26).
"Does the Growing Demand for Meat Globally Fuel Climate Change?" — The Western Center for Agricultural Health and Safety hosts this talk by Frank Mitloehner, professor, animal science (Dec. 2).
"Keeping Your Brain Healthy" — Alzheimer's Disease Center Community Discovery Lecture by Sarah Tomaszewski Farias, associate professor, neurology (Dec. 5).
ANNOUNCEMENTS
Today (Nov. 26), doubleheader, 4:45 p.m. (women vs. San Jose State) and 7 p.m. (men vs. Sac State), The Pavilion
General admission is just $5 (for one or both games) when you donate a can of food or another nonperishable food item; donations go to the Yolo Food Bank. [ More… ]
Today (Nov. 26), 7 p.m., Lab A, Wright Hall
From the Institute for Exploration in Theatre, Dance and Performance, a devised theater piece by M.F.A. candidates Lindsay Beamish and Amanda Vitiello. ... The rock musical Spring Awakening continues through Dec. 7. [ More… ]