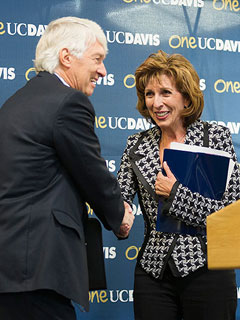 We are pleased to lead off today with our new communications initiative, reflecting and honoring all of us, we who work together, collaboratively, across disciplines, striving to improve people's lives, notably in the areas of food, sustainability and health. Along these lines, Chancellor Linda P.B. Katehi last week named our new World Food Center's founding director: food scientist and innovator Roger Beachy, former head of the USDA's National Institute of Food and Agriculture. "We are delighted to have him join us and quite excited about what he and the center's future partners will accomplish as they work together to achieve global food security for the next generations," Katehi says at a news conference. Later in the day, she blogged about the center and Beachy.
NEWS SUMMARY
The new UC president, Janet Napolitano, allocates $5 million each to three initiatives aimed at supporting undocumented students, postdoctoral fellows and graduate students. … During a visit to Oakland Technical High School, she urges students to work hard and set high expectations for themselves. In turn, she promises to ensure that UC would remain both accessible and affordable. [ More… ]
Huaijun Zhou, associate professor in animal science, receives a $6 million grant for genetic research in chickens, to breed them to be heat tolerant and disease resistant. The goals? More food, better nutrition and improved livelihoods for people in Africa. [ More… ]
Wildlife epidemiologist Jonna Mazet and others discover a new SARS-like coronavirus in Chinese horseshoe bats and determine that it can be transmitted directly to people. Early detection like this allows time for the development of control measures, and, says Mazet, co-director of PREDICT, "validates our assumption that we should be searching for viruses of pandemic potential before they spill over to people." [ More… ]
In designating the UC system a Green Building Super Hero this week, the U.S. Green Building Council's Northern California Chapter specifically called out two UC Davis projects — UC Davis West Village, and the teaching, winery and food science laboratory at the Robert Mondavi Institute for Wine and Food Sciences — as "great examples of UC's leadership in green building." [ More… ]
Professor David Britt and colleagues uncover the unique chemistry involved in bacteria's conversion of iron and sulfur atoms, cyanide and carbon monoxide to hydrogen. The discovery could lead to a way for cheap and easy industrial production — a dream goal for clean, sustainable energy. [ More… ]
Veterans get a day of their own and more next week at UC Davis. First comes the national holiday, Monday (Nov. 11). Then come special presentations; a reception; and, finally, a "Salute to Heroes" at the Aggie football game on Nov. 16. The UC Davis Health System "joins forces" with the American Association of Medical Colleges to promote a series of webinars aimed at faculty and staff, on health issues among veterans and active duty service members. [ More… ]
He was a professor emeritus and former associate dean, a recipient of the Academic Senate's Distinguished Scholarly Public Service Award and a member of both the Agricultural and Food Chemistry Division of the American Chemical Society, and the American Association for the Advancement of Science. In addition, he had a student residence hall named after him at the Colleges of La Rue. [ More… ]
Mail Services' Holiday Food Drive continues through Friday, Nov. 15, and donating could not be easier. … The Walter A. Buehler building has a new name, King Hall has a new plaza (with coffee hut) and Outdoor Adventures has a new home, the Rec Pool Lodge. … Event planners take note: The 17th annual Vendor & Caterer Showcase is scheduled for Nov. 14. … The Quarter Century Club holds its annual dinner Nov. 20, initiating 249 new members and honoring 65 members who have reached the 50-year mark in UC Davis employment. … Upcoming courses: "Sexual Harassment: Advanced Topics" and "Unpacking Oppression." [ More… ]
ANNOUNCEMENTS
No announcements were issued this week.
Today-Wednesday, Nov. 5-6, 10 a.m.-5 p.m., The Pavilion (upper level)
Sixth annual friendly competition: Which school can round up the most blood donors, UC Davis or California State University, Sacramento? Every donor receives a free "Pay It Forward" T-shirt. Plus, there will be random drawings throughout the day for other prizes. [ More… ]
Wednesday, Nov. 6, 4-8 p.m., 633 Pena Drive, Davis
"Celebrating a Decade of Innovation" in lighting efficiency. Opening remarks at 4:30 p.m. Tour the center afterward, and enjoy refreshments while discussing CLTC's latest projects with faculty, staff, affiliates and project partners. [ More… ]
Wednesday-Saturday, Nov. 7-9
Poetry in the Garden with Crawdad Nelson and Benny Biesek (noon-1 p.m. Nov. 7, Wyatt Deck), folk music jam session (noon-1 p.m. Nov. 8, Wyatt Deck) and Native American Uses of California Plants (meet at 11 a.m. Nov. 9, Buehler Alumni Center). All free. [ More… ]
Saturday, Nov. 9, 11 a.m.-1 p.m., meet at Nature's Gallery Court in the arboretum
This ARTfriends event is free for members, $20 for nonmembers. [ More… ]
Saturday, Nov. 9, 7 p.m., Episcopal Church of St. Martin, 640 Hawthorne Lane, Davis
Works by Johannes Ockeghem and Josquin des Prez. [ More… ]
Monday-Saturday, Nov. 11-16
Panel discussions, workshop, research presentations, yoga and dance, plus the International Fair (11:30 a.m.-1:30 p.m. Nov. 14, multipurpose room, Student Community Center). [ More… ]