Spotlight on…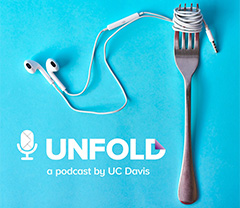 The Office of Strategic Communications today (Sept. 17) launches the UC Davis podcast Unfold — "unfolding" complex issues and discussing solutions with UC Davis experts. Season 1 addresses "Feeding a Growing Population" and starts with an episode titled, "What's the Beef With Beef?" [ More… ]
NEWS SUMMARY
The provost and executive vice chancellor — who also served as acting and then interim chancellor for 15 months in 2016-17 — announces he will step down from campus leadership at the end of the 2019-20 academic year to refocus his energies on his teaching and research in the classics and comparative literature. [ More… ]
Chancellor Gary S. May invites new and returning students, faculty, staff and community members to Fall Welcome, followed by dinner for all, this coming Monday (Sept. 23). Students will need their UC Davis IDs for admission, while others — including faculty and staff — must have tickets (they're free, and our story tells how to get them). [ More… ]
UC Davis issues request for proposals to finance, design, build, own and manage the first phase of the innovation hub planned for the Sacramento campus. The university also confirms some of the programs it would bring to Aggie Square in Phase 1. [ More… ]
"The establishment of UC Davis as a top research university is demonstrated by its continued success in attracting a high level of external funding," Vice Chancellor for Research Prasant Mohapatra says. [ More… ]
Student Health and Counseling Services is one of only three student health centers in the nation to be designated an LGBTQ Healthcare Equality Leader for 2019. [ More… ]
Vice Chancellor Kelly Ratliff of Facilities, Operations and Administration provides an update on seismic safety improvement efforts, including eight projects now underway at a cost of more than $250 million to date. [ More… ]
With our first paychecks coming from UCPath — Oct. 1 for employees who are paid monthly, and Oct. 2 for employees who are paid biweekly — now's a good time to review how you will receive your pay: direct deposit (same as before), by U.S. Mail, or on a new UC Pay Card. [ More… ]
UC officials are reporting "strong gains" in the university's investment portfolio for the fiscal year that ended June 30 — with assets under management growing to $126.1 billion, a one-year jump of $7.4 billion (and a five-year gain of $30 billion). Plus …
Retirement chief issues message on delays
Napolitano comments on bond proposal
Pop-up workshop on Davis Depot's future
Assisting Cal Fire: Campus crews out and back
Graduate School of Management students explore ways to increase UC Davis' visibility in Latin America. … A student spends her summer collecting food for the needy. … A 61-year-old tortoise is treated at UC Davis for bladder stones. [ More, with video… ]
The School of Law hosts Harvard historian Annette Gordon-Reed for this year's Central Valley Foundation/James B. McClatchy Lecture, Wednesday (Sept. 18). Her topic: "Monuments, Shields and Statues: What, and Who, Belongs in the Public Sphere?" [ More… ]
MORE FEATURED COLLOQUIA
ANNOUNCEMENTS
Campus museum exhibitions will feature fashion from the inside out; an installation that puts the viewer in the middle of a poetic and visual narrative about humanity's history and future; and a mix of graphics, comics, science fiction and game play, for engagement and thought about Indigenous futures and possibilities. [ More… ]
Editor's Picks from the online calendar:
HEALTHY UC DAVIS
Well-Being Ticket Deal: $10 staff-faculty tickets for Trey McLaughlin & the Sounds of Zamar, Sept. 29 (tickets available until the day before).
Nature Rx: Connect with nature via mini-succulent gardens, terrariums, fall harvest and Watercolors in the Arboretum — sign up by 5 p.m. Friday (Sept. 20) to be entered in lottery for limited spaces in these October programs.
An Evening With Vet Med: "Why Do Horses Need Regular Dental Care?"
Tuesday, Sept. 17: With Nicola Pusterla and Colleen Heney of the UC Davis Equine Dentistry and Oral Surgery Service. Free.
Entomophagy Theme at Bohart Open House
Saturday, Sept. 21: Think "Gobble, Gobble, Munch, Munch, Crunch" at entomology museum.
Ground and Field Theatre Festival
Fat Kid Rules the World: Sept. 26-Oct. 5. Free.
Ranked, a New Musical: Sept. 26-28. Free.
Feminist Research Institute Open House
Tuesday, Oct. 1: Learn about programming in the new academic year and celebrate the institute's new home.