The Dateline newsletter is taking the next two weeks off (July 2 and 9), then will publish every other week, July 16 and 30, and Aug. 13 and 27, before resuming regular publication on Sept. 10. All during this time, we will still be posting stories to the UC Davis News & Information webpage. Also, be sure to follow Dateline UC Davis on Twitter.
— the Dateline staff
Spotlight on…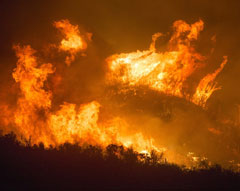 While firefighters tackle the flames, UC Davis scientists, veterinarians, physicians and teachers are treating people and animals, investigating the effects on mental and physical health, and trying to discover what the future might hold as wildfires burn into towns and suburbs. [ More, with multimedia… ]
NEWS SUMMARY
Officers from UC Davis and elsewhere raise nearly $173,000 in torch run that led to the Opening Ceremony for the Northern California Summer Games, held on campus last weekend. The ceremony included tributes to slain police officers Natalie Corona of Davis and Tara O'Sullivan of Sacramento. [ More, with video… ]
The new QS World University Rankings out last week show UC Davis maintains its positions among U.S. universities — 31st overall and 13th among publics — and stands out the most for academic reputation and number of citations per faculty member. UC Davis comes in 104th among 1,001 universities worldwide. Plus other recent rankings. [ More… ]
A congressional committee looking at how to prevent sexual harassment in science hears from Philip Kass of Academic Affairs about a UC Davis pilot program that checks references regarding the personal conduct of finalists for academic appointments. [ More… ]
Twenty-four young African leaders from 18 countries arrived June 19 for a six-week Leadership in Public Management Institute, organized by Global Affairs under the auspices of the Mandela Washington Fellowship, the flagship program of the U.S. government's Young African Leaders Initiative. [ More… ]
Despite a year of progress addressing students' concerns over food security, mental health care and the availability of affordable housing, the Basic Needs Oversight Committee sees continuing challenges ahead. The committee urged Chancellor Gary S. May to establish a permanent advisory board, and he agreed wholeheartedly. [ More… ]
Professor Charles Langley and colleagues discover big chunks of Neanderthal and other ancient DNA in the so-called heart of darkness of the human genome: the pinched-in "waist" that you see in textbook images of chromosomes. The finding opens new ways to study both how chromosomes behave during cell division and how they have changed during human evolution. [ More… ]
The state Emergency Medical Services Authority presents a certificate of commendation to the Medical Reserve Corps of UC Davis' Veterinary Emergency Response Team, or VERT, recognizing the corps' response to the Camp Fire. Plus, honors for Henry Spiller (music), Anjali Nath (American studies), Jiayi Young (design), Tim Hyde (art) and Clifford Saron (Center for Mind and Brain). Facilities Management wins awards for TherMOOstat and ACE, tools that help the university use energy more efficiently. [ More… ]
CASE and ACE: Development office wins CASE Educational Fundraising Award; development and Global Affairs win CASE Circle of Excellence awards; and communicators win ACE awards.
Summer is here, a time when more UC Davis affiliates go abroad, prompting Global Affairs to post a reminder about the travel registration requirement enacted last year to promote travelers' safety and security, and ensure appropriate risk mitigation procedures are applied to "high-risk" travels. Plus …
Tailgate on Champions Corridor
Reception set for AVC Don Hunt
CPE on the move in Sacramento
AggieSurplus hours are changing
ANNOUNCEMENTS
Art activities for the whole family, music by So Much Light, free ice cream and other refreshments, and the opening of two new exhibitions, ColorForm and Landscape Without Boundaries. The Summer Celebration, Sunday afternoon, July 14, is free and open to the public. [ More… ]
Editor's Picks from the online calendar: