After next week's edition, June 25, the Dateline newsletter will take two weeks off, then publish every other week, July 16 and 30, and Aug. 13 and 27, before resuming regular publication on Sept. 10. All during this time, we will still be posting stories to the UC Davis News & Information webpage. Also, be sure to follow Dateline UC Davis on Twitter.
— the Dateline staff
Spotlight on…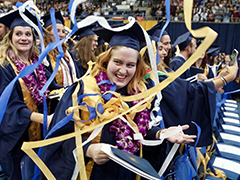 Voting starts Wednesday (June 19) to select the best decorated grad caps. … See a rotating board of curated social media posts from students celebrating their graduation. … Football coach Dan Hawkins gave students rides to their finals, easing their stress with conversation, music and bottles of water. [ More, with video… ]
NEWS SUMMARY
Chancellor Gary S. May awards the university's highest honor, the UC Davis Medal, to Richard C. "Dick" Dorf, professor emeritus in the Graduate School of Management, and the Department of Electrical and Computer Engineering, saying: "UC Davis has a thriving culture of innovation and entrepreneurship and I can't think of anyone who embodies this spirit more than Dick Dorf." [ More, with video… ]
The UC Davis Fire Department and Fire Prevention Services recently earned top professional recognition for their operations: an Insurance Safety Office (ISO) Class 1 rating for the Fire Department, and accreditation for Fire Prevention Services. [ More… ]
Gary and LeShelle May host a reception for our 2018-19 Aggie Heroes, whom the chancellor says are representative of "the people who make UC Davis what it is — a dynamic, empowering place that's driven to create a better tomorrow for all." [ More… ]
UC Davis Magazine: What's new online?
Q&A with Jackie Speier '72 — The "unbreakable" congresswoman talks about her new memoir, overcoming challenges and her advocacy for women's issues.
"Making the Cut" — Cindy Garcia '14 debuts Wednesday (June 19) on The Butcher, a History Channel competition, and has an even bigger challenge on the horizon.
"New" Rec Pool is open! — See it from the air, in annotated graphic.
In a joint lecture, enologist Anita Oberholster describes her research into smoke taint in wine grapes, while former Gov. Jerry Brown provides global context on climate change as a contributing factor: "This is not about shifting from wine to beer," he says. "This is about human existence." [ More… ]
The Science Translation and Innovative Research (STAIR) Grant program, managed by Venture Catalyst and funded by the Office of Research, awards more than $400,000 to advance UC Davis research and technologies. [ More… ]
A campus memorial event for the retired associate vice chancellor is being planned for the fall, but his friends and colleagues also wanted to pay tribute to him now. So they are asking people to join them in random acts of kindness for a week in memory of the "Random Acts of Kindness King." [ More… ]
UC Davis issues a request for qualifications to real estate developers interested in financing, designing, building, owning and managing the first phase of Aggie Square, the innovation hub on the university's Sacramento campus. Plus …
MSAP: Identifying future leaders
New staff advisor to Board of Regents
Depot survey prize: Tickets to ride
Some 400 noted and emerging linguists from around the world are coming to UC Davis for "linguistics summer camp," an institute, actually, June 24-July 19, comprising intensive instruction, professional development and informal networking. The first of seven public lectures, all starting at 7 p.m., will be Tuesday (June 25). [ More… ]
MORE FEATURED COLLOQUIA
ANNOUNCEMENTS
Threats to pets: Summer hazards, secondhand smoke
The Veterinary Medical Teaching Hospital addresses Summer Health Hazards for Dogs (June 18), including overheating, heat stroke, foxtails, and fleas and ticks. The Comprehensive Cancer Center presents Keeping Our Pets Healthy (June 28), on how pets are affected by secondhand tobacco smoke, and how you can talk about smoking cessation with family and friends who smoke around pets.
Editor's Picks from the online calendar: