Spotlight on…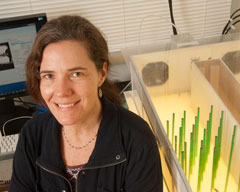 They are two biologists (including Stacey Combes, pictured), an artist and a poet, a medical microbiologist, a molecular geneticist and a veterinary epidemiologist, a psychologist and a mathematician, and a physicist looking for "dark matter." [ More… ]
NEWS SUMMARY
UC Davis will test its emergency notification system on Wednesday (Jan. 30), sending text messages and emails at noon to the Davis campus, and between 1 and 2 p.m. on the Sacramento campus. [ More… ]
The multifactor authentication system not only allows access to the university's new payroll and personnel system, coming to UC Davis in March, but will improve account security overall. [ More… ]
UC Davis veterinarians led a team that has found a link between some popular grain-free, legume-rich dog diets and a type of nutritional deficiency and canine heart disease known as taurine-deficient dilated cardiomyopathy. [ More… ]
Dana Hinojosa, the campus's associate ombudsperson, has been named interim director of the Ombuds Office following Katherine Greenwood's departure for the University of Southern California. Plus … Florence Zakharov is the new director of the Postharvest Technology Center and Lou Ziskind now leads the Retiree Center. [ More… ]
Human Resources unit offers staff a simple, grassroots way to acknowledge managers and supervisors who "help you facilitate the management of your professional and personal responsibilities." [ More… ]
They are scheduled for Feb. 8 on the Sacramento campus, Feb. 19 on the Davis campus. Each will include a brief presentation and ample time for questions and answers about UC Davis' planned innovation hub. Plus …
Plan now for Information Security Symposium, and consider being a presenter
Veterinary students' pets adorn calendar
The Capitol dresses up for heart health
Blood drive brings in 516 lifesaving pints (and there's still a need for Type O)
Art Shapiro's annual Beer for a Butterfly contest has come to an end, with the professor again winning the sudsy honors. … Students explain the upcoming referendum on Unitrans student fees. … Two professors go behind the scenes at TEDMED. … An expert from UC Davis Health explains how to squeeze in a few workouts in the office. [ More… ]
ANNOUNCEMENTS
Editor's Picks from the online calendar:
Exhibition: The Art of Athletes
Feb. 1-15: Tenth annual exhibition of works by intercollegiate student-athletes. Meet the artists at the opening reception, 5-7 p.m. Friday (Feb. 1).
Symphony Orchestra: "Alma de Bandoneón" (Soul of Bandoneón)
Saturday, Feb. 2: Music of Argentina, featuring guest artist JP Jofre on the bandoneón (hand-held harmonium), and a program that includes Bandoneón Concerto by UC Davis composer Pablo Ortiz, a native of Argentina.

HEALTHY UC DAVIS
Well-Being Ticket Deal for February: The contemporary circus troupe 7 Fingers Cirque presents Reversible at the Mondavi Center, 2 p.m. Sunday, Feb. 10. Staff and faculty can buy $10 tickets from Friday (Feb. 1) up until showtime.
Mindful Awareness Practices: Application deadline Feb. 13 for six-session course starting March 4.