Spotlight on…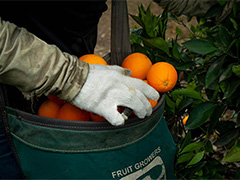 "If we don't act quickly, we could lose all fresh citrus within 10 to 15 years," says Carolyn Slupsky, professor of nutrition and food science. The threat is from a disease called huanglongbing, or HLB — more commonly known as citrus greening. It has decimated groves in Asia, Brazil, the Dominican Republic and Florida, and is now spreading in California. [ More with multimedia… ]
NEWS SUMMARY
The university is dropping Western Health Advantage HMO in 2020, while making the UC Blue & Gold HMO (which includes access to UC Davis Health and UC Davis Medical Group) more affordable for all. [ More… ]
A reminder: This Thursday (Aug. 29) is your last day to make changes to your personal information, tax withholdings, direct deposit and beneficiaries in At Your Service Online; otherwise you'll need to wait until UCPath comes online Sept. 27 (the revised "go-live" date). [ More… ]
More than 160 buildings and other locations already have electronic access controls — but they are not all the same. The new AggieAccess program will standardize the systems and connect them to the campus Police Department's communications center for efficiency and improved security. [ More… ]
The first phase of development is not scheduled until 2021, but employees from IBM and UC Davis' Office of Public Scholarship and Engagement, along with Aggie Square staff, will set up shop together this Friday (Aug. 30) to demonstrate the power of colocating university, industry and community. [ More… ]
Chancellor Gary S. May has appointed a recruitment advisory committee for the position of vice chancellor of Student Affairs. Emily Galindo has been filling the role on an interim basis since March 2018. [ More, with video… ]
He's a leading expert in international law, international transactions and international dispute resolution, the first appointee to the John D. Ayer Chair in Business Law, named in honor of a longtime teacher of bankruptcy and other commercial law courses at the School of Law. [ More… ]
UC Davis' Violence Prevention Research Program publishes data suggesting extreme risk protection orders — commonly called "red flag" orders — are successful in preventing mass shootings. [ More… ]
All signs are pointing to UC Davis Health's increasing commitment to UC Davis Athletics and the Davis community overall. "Together, no matter what side of the causeway we're on, we are all one team," Chancellor Gary S. May says. "And, that's the spirit we're showing with UC Davis Health Stadium." [ More… ]
Two offers for staff and faculty: 33 percent discount on season tickets, two free tickets to the home opener against Lehigh, Saturday, Sept. 14. … But first, the Aggies play at Cal this Saturday (Aug. 31), and there will be a UC Davis Tailgate beforehand. [ More… ]
Two events in one, Wednesday (Aug. 28), at Sudwerk Brewing Co.'s Dock Store: The introduction of Gunrock American Lager in larger, 16-ounce cans, and the live radio broadcast of the UC Davis Coaches Show with head football coach Dan Hawkins as the guest. [ More… ]
The machines that reset the bowling pins in the Memorial Union Games Area are being replaced for the first time since the 1960s. The bowling lanes are closed during the work, which is scheduled to last through late September and will make the lanes safer for the Games Area's student employees and more reliable for players. Staff members looking to try out the new machines can do so this fall in with the return of staff bowling leagues. [ More… ]
Karen Roth had worked in Student Housing and the Office of Campus Community Relations, and was instrumental in the development of diversity education, the Campus Community Book Project and the Principles of Community. … Charles "Chuck" Fadley, distinguished professor of physics, dies at 77. … A campus memorial will be held Oct. 8 for Walter Robinson, retired associate vice chancellor of Enrollment Management. [ More… ]
The welcome mat is always out at the Welcome Center, but, for an open house Thursday, Sept. 5, the center is especially welcoming the campus community. RSVPs are requested by Sept. 3. Plus …
Cyanobacteria in Arboretum Waterway
Poster calendars due to arrive Sept. 5
Vet hospital sets up call center
UC Davis is launching a podcast: Unfold, which takes a deep look at the ways UC Davis experts are solving the world's biggest issues. Coming Sept. 17, how we will adapt to feeding a growing global population. … Chancellor Gary S. May enjoys a rare moment of quiet. … Aggie football alum is making waves on the Oakland Raiders during the NFL preseason. [ More, with video… ]
ANNOUNCEMENTS
Call for applications for UC Management Development Program — For managers who manage other supervisors and/or manage complex programs or projects. Room for 30 from UC Davis and UC Davis Health. Please ensure you can attend all for modules: 8:30 a.m.-4:30 p.m. Oct. 8, 15 and 22, and Nov. 5. Deadline: 5 p.m. Sept. 6.
Summer roadwork — Bike path on the east side of Toomey Field, along A Street, is closed through Sept. 6 for reconstruction. Elsewhere, the La Rue Road reconstruction project is down to the striping (this week and next week), and the partial closure of Hutchison Drive adjacent to Surge 4 and the Silo continues through Oct. 28.
Bus stop relocated temporarily — The intercampus shuttle and YoloBus stop in Visitor Parking Lot 56 (in the Health Sciences District) is closed through Aug. 31 to make way for a steam vault project. The buses are instead dropping off and picking up passengers at sheltered bus stops (one eastbound, one westbound) on Hutchison Drive at Health Sciences Drive.
Editor's Picks from the online calendar: