Spotlight on…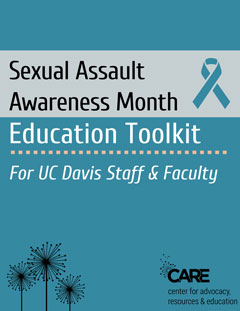 This new publication is from the Center for Advocacy, Resources and Education, or CARE, which developed the toolkit to engage staff and faculty during this special month dedicated to sexual assault awareness and prevention efforts. This month's calendar includes a number of related events, including Take Back the Night, April 10, and Denim Day, April 24 (and a Denim Day information session for staff, April 17). [ More… ]
The toolkit is available only as a PDF; see the story for link for free download.
NEWS SUMMARY
The main campus, UC Davis Health, and Agriculture and Natural Resources — about 35,000 employees combined — will switch to UC's new payroll and personnel system at the same time, with cutover activities happening in September. [ More… ]
As our second annual Employee Giving Month gets underway, staff member and alumnus Francisco Andrade tells why he gives to UC Davis: "I get a thrill from looking at research being done at the university. … You see the creativity of the professors and students. Whatever I contribute, I hope it helps that work continue." [ More… ]
It's against campus policy, it's against state law, and it can lead to severe health consequence for wildlife and people, says Nina Suzuki, Arboretum Waterway steward. [ More… ]
Researcher at the Center for Molecular and Genomic Imaging will share $17 million in funding from the Chan Zuckerberg Initiative. … Dean Michael Lairmore begins one-year term as president of the Association of American Veterinary Medical Colleges. … Professors Emeritae Kathryn Dewey and Barbara Schneeman are serving on the U.S. dietary guidelines scientific advisory committee. … Plus, honors for Hao Chen of statistics, Eduardo H. da Silva Neto of physics and Eva Mroczek of religious studies. [ More… ]
"Before cats were domesticated, they lived in the wild where they hunted for food," says Mikel Delgado, a postdoctoral researcher on cat behavior at UC Davis. "Then humans came along and took their jobs away." And this is why food puzzles are a good idea. [ More… ]
UC Davis Research Expo (April 10), including sessions on "How UC Davis' Hispanic Serving Institution Status Could Affect Research Funding Prospects" and "Research Administration, Compliance and Regulations — What's New in 2019?" Plus more than 50 exhibitors showcasing research tools, services and opportunities for collaboration.
Campus restaurant continues theme set forth with a 2017 remodel by adding more affordable dishes, policies meant to create a relaxed atmosphere, and now: beer and wine service. Plus more food news from around campus. [ More… ]
Sign up, take simple actions to reduce your carbon footprint — and help UC Davis be the UC system's Cool Campus Champion. You'll earn points for every action, such as turning off your computer monitor when you are away, or participating in campus sustainability events (for example, planting trees or going on a Sustainability Sketch Crawl). Plus …
Police pursuit ends at back end of bus
"Connect" with new students in the fall
Decision UC Davis: This Saturday
Napolitano apologizes for pension check delay
Read what students have to say about their participation in the Leadership Job Shadow Program last quarter (applications are being accepted through the end of this week for spring quarter). … Listen to a doctor from the UC Davis Children's Hospital explain the local measles outbreak. … Students scream away their finals-related stress. … A MIND Institute researcher answers autism questions on reddit. [ More, with video… ]
ANNOUNCEMENTS
Editor's Picks from the online calendar: