Spotlight on…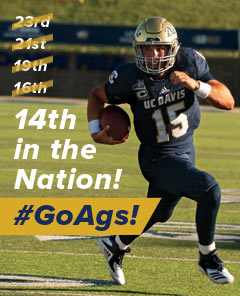 Our celebration this weekend includes a new-look Pajamarino, the ninth annual UC Davis Brewfest and our up-and-coming football team. See our calendar of events with all the details. [ More… ]
14th-Ranked Ticket Deal: Pay $14 total for admission to TWO games (Homecoming and Nov. 3) — offer good until 10 p.m. today (Oct. 9)
More homegrown events:
NEWS SUMMARY
The planetary scientist, who has developed novel theories about the formation of the Earth and moon, wins $625,000 award sometimes called a "Genius Grant." [ More, with video… ]
In appointing Michael Rios, professor of human ecology, as the founding director of the Office of Public Scholarship and Engagement, UC Davis is investing in faculty and their desire to expand public visibility and impact. [ More… ]
In his monthly column, the chancellor writes about student housing, movie nights, Aggie Heroes, Hispanic Serving Institution status and rooting for the home team, especially during Homecoming this weekend when the Aggies take on Idaho State. [ More… ]
Dean Kevin R. Johnson of the School of Law will moderate a town hall and panel discussion (including undergraduate and graduate students) on policies and practices to provide the best policing for the campus community. [ More… ]
Little did Phillip Shaver realize when he co-authored a scholarly article on romantic love in 1987 that his findings would transform the study of interpersonal relations. [ More… ]
Alan Hastings, Rachel Bay and Celina Juliano share $2.8 million in grant funding. … Plus, Laurels for faculty members Philipp Zerbe, Kurt Rohde, Jeffrey Thomas and Lynne Isbell, and staff members Sherena Edinboro and Charlene Green. [ More… ]
California's wine country erupted in flames a year ago this week, before all the grapes had been harvested. Since then, UC Davis' Anita Oberholster has been researching so-called smoke taint, in the hope of finding the best ways to treat the wine to mitigate the effects. See our photo story and hear from Oberholster in an extended version of our 3-Minute Egghead podcast. [ More… ]
Josh McCoy of the UC Davis will address "Artificial Intelligence: Innovations for the Future" as the keynote speaker at this year's Disability Awareness Symposium and Accessibility Tech Fair, 11 a.m. to 2 p.m. Thursday (Oct. 11). Plus …
Staff workshop on Free Speech and Higher Education
First 'UC Quits' tobacco, now 'CA Quits'
Quarter Century Club will honor 315
Dress like a celebrity, mythical figure or superhero for Halloween with the help of the Department of Theatre and Dance's Enchanted Cellar. … A pop singer learns winemaking from UC Davis before releasing her own wines. … An Aggie-turned-pro-wrestler is featured on this season of Survivor. [ More, with video… ]
ANNOUNCEMENTS
Executive recruitments, national — Dean, School of Medicine; dean, Betty Irene Moore School of Nursing; vice chancellor, Diversity, Equity and Inclusion; and associate vice chancellor, Enrollment Management.
Executive recruitment, internal — Vice provost and dean, Graduate Studies. This position is open until filled; however, review of materials will begin on Monday, Oct. 22. To ensure consideration, please submit the requested materials by 5 p.m. Friday, Oct. 19.
Traffic restriction — A portion of Equestrian Lane will be reduced to one lane for all traffic (including bicycles), through Oct. 12, because of construction activities related to the Large Animal Support Facility.
We want to be the healthiest campus! Read more here and come to the Quad, noon-2 p.m. Oct. 11, for the Kickoff Celebration. Our efforts include:
Farmers Market, 11 a.m.-1:30 p.m. every Wednesday on the Quad
Well-Being Ticket Deal: Julie Fowlis concert, Oct. 13
Seeds of Well-Being, monthly series begins Oct. 18
Free flu shot clinics, Oct. 23 and 25
Editor's Picks from the online calendar: