Spotlight on…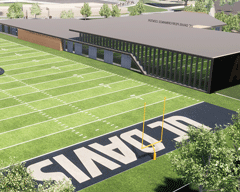 UC Davis Athletics, UC Davis Health and generous donors have come together to develop the Student-Athlete Performance Center next to Aggie Stadium, which will be renamed UC Davis Health Stadium. UC Davis Health sees the center as a hub for treatment of student-athletes and others in the community who want the best sports medicine, and representative of the health system's renewed commitment to serving the Davis community. [ More… ]
NEWS SUMMARY
Classes are due to resume and the Davis and Sacramento campuses are scheduled to be fully open Monday (Nov. 26) after a week and a half of cancellations and closures prompted by wildfire smoke in the air. Plus, answers to your questions on compensation and paychecks, and the open enrollment deadline (it's still 5 p.m. today). [ More… ]
As the Camp Fire continues to burn in Butte County, UC Davis continues its response on campus and off — coming to the aid of animals and people. The campus also welcomed home firefighters from the front lines. [ More, with video… ]
The Aggies, Big Sky Conference champion for the first time, are seeded sixth in the Football Championship Subdivision playoffs, and as such have a bye in the first round this weekend. UC Davis will play Dec. 1 in Aggie Stadium against the winner of Lamar (Beaumont, Texas) vs. Northern Iowa (Cedar Falls). [ More… ]
The Center for the Advancement of Multicultural Perspectives on Science recently inducted its newest CAMPOS Faculty Scholars, recruited by CAMPOS in its mission to change the face of STEM by building faculty diversity in science, technology, engineering and mathematics. [ More… ]
RESEARCH
Open to all students, staff, faculty and alumni, the third annual competition offers $15,000 prizes for each of two winners, one from among early-stage startups and one from among later-stage startups. Plus …
"Cheers for Peers" for Thanksgiving and beyond
The members of the UC Davis Symphony Orchestra decided to press on with this weekend's concert despite not being able to rehearse beforehand. … The AARP turns to the Betty Irene Moore School of Nursing for help with a series of videos for family caregivers. [ More, with video… ]
"Geography of Human Cultural Diversity" — Michael Gavin, associate professor, College of Natural Sciences, Colorado State University, Fort Collins, gives this talk in the Evolutionary Anthropology Colloquium Series. (Nov. 26)
UC Davis Forums on the Public University and the Social Good — Marybeth Gasman, professor of education, University of Pennsylvania, will speak on "Our Nation's Professoriate, Diversity and Racism: The Five Truths We Don't Want to Confront." (Nov. 29)
Scholarship of Teaching and Learning Conference — All faculty are invited to this free conference to share research, ideas, practices and resources in support of evidence-supported teaching innovation. Hosted by the Center for Educational Effectiveness. (Nov. 30; registration required)
ANNOUNCEMENTS
While air quality problems caused UC Davis to close the campus and cancel classes along with some important rehearsals, the shows must go on, and we have an update on postponements and new schedules to get us right back in the swing of things. [ More, with video… ]
Editor's Picks from the online calendar:
HEALTHY UC DAVIS
Maintain Don't Gain: It's not too late to sign up! The systemwide challenge runs through Jan. 7.
Friday Ride Days: The Bicycle Program welcomes all experience levels to this noon-hour excursion. (Nov. 30, and Dec. 7 and 14).
TechHub Apple 1-Day Sale
Wednesday, Nov. 28: New date, after sale was postponed during campus closure.