Spotlight on…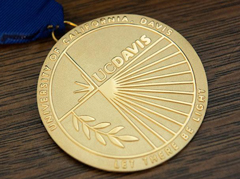 UC Davis Medals will be presented June 8 to Michael W. Chapman, alumnus and chairman emeritus of the Department of Orthopaedic Surgery; John and Lois Crowe, scientists and philanthropists; and Gurdev Khush, professor emeritus of plant sciences. [ More… ]
NEWS SUMMARY
Vice Chancellor Kelly Ratliff assures the campus community the university has contingency plans in place and campus operations will continue during scheduled labor action next week. [ More… ]
The university's regents had been expected to vote on an in-state tuition increase at their May meeting. For now, the university will continue to advocate with students for more state funding. [ More… ]
The 2018-19 edition came out Monday (April 30), back on an annual publication schedule after 18 years as a biannual catalog. Read about other format changes, and about the university registrar's online archives of catalogs going back 71 years. [ More… ]
There will be no coasting through Bike Month at UC Davis, as Transportation Services plans pit stops for safety, as well as outreach to encourage more people to consider alternatives to driving alone to work — be it by bicycling or carpooling or taking the bus or train. [ More… ]
Trainings and other activities on heat illness prevention and proper lab attire (May 7-11), wellness (May 14-18), active shooter and mission continuity preparedness (May 21-25), and travel safety and security (May 28-31). [ More… ]
Cecilia M. Tsu and Charles F. "Chuck" Walker (history) and Hsuan L. Hsu (English) win prestigious grants to support research in the humanities and humanistic social sciences. … New fellows: Kathryn Dewey (nutrition), Linda Harris (food science and technology) and Neelima Sinha (plant biology). … Gregory Downs is elected to the Society of American Historians. … And Janet C. Hamilton rides in the Picnic Day Parade as Outstanding Retiree for 2018. [ More… ]
Catherine Brinkley, assistant professor of human and community development and human ecology, challenges the status quo of concentric development, saying cities should look to the edges, not just the core. [ More in the Egghead blog… ]
IN MEMORIAM: Corbett, Kemper, White, Williams
UC Davis will hold a public hearing this Thursday night (May 4) to take oral and written comments on the draft environmental impact report that has been prepared to accompany the 2018 update of the Davis campus's Long Range Development Plan. Plus …
Files lost from old SmartSite system
Going for the Slammy at UC Grad Slam
Opportunity to advise the chancellor
Correction: Cris Heitmann obituary
LeShelle May and 2,000 others Stride for Aggie Pride. … Chancellor Gary S. May treats students to a showing of Avengers: Infinity War. … See highlights from Take Our Daughters and Sons to Work Day … The Jan Shrem and Maria Manetti Shrem Museum of Art is dancing its way through a competition. [ More, with video… ]
ANNOUNCEMENTS
Fulbright Scholar Workshop — Global Affairs and Global Professional Programs invite faculty and administrators to hear from Kaitlin Taylor of the Institute of International Education, discussing opportunities for teaching, research and flexible initiatives in more than 125 countries; tips on crafting competitive applications and choosing the right fit related to awards and countries; and how to host Fulbright Visiting Scholars through various funds and programs. May 18; please RSVP by May 15.
Call for applications for Diversity and Inclusion Innovation Grants — Funding is available to students, faculty and staff for projects in 2018-19 that will promote and enhance diversity and inclusion at the university. For the coming year, the organizers have particular interest in proposals that most directly connect with or impact students. Deadline: May 25.
Public forums with candidates for vice chancellor, Office of Research — The last of four forums is set for May 2 (like the others, it will be livestreamed).
Come hear works by music students and creative writing students, composing together. Or music professor Kurt Rohde's new composition based on poems by Diane Seuss. Other programs include works by student composers, performed by the Empyrean Ensemble, percussion students and Artist-in-Residence Miranda Cuckson (violin and viola). [ More… ]
Editor's Picks from the online calendar: