Editor's note: Dateline is publishing every other week in August before resuming regular publication on Sept. 11.
— The Dateline staff
Spotlight on…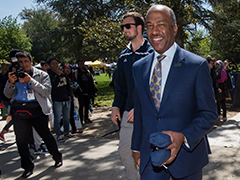 In his first year on campus, UC Davis' seventh chancellor has made major strides to shape the future of the university, taken a close look at issues facing students and been an outspoken voice for social justice. In his second year he faces the challenge of sharing UC Davis' greatness with more people — something his signature initiative, Aggie Square, will help address. [ More, with video… ]
NEWS SUMMARY
Campus firefighters continue to be on the front lines of the fight against some of the state's largest wildfires: the 92,000-acre Ferguson Fire and the 167,000-acre Carr Fire. [ More… ]
More than 36,000 donors exceeded $230 million in gifts to UC Davis in the fiscal year 2017-18, which included an 8 percent increase in the number of gifts. [ More… ]
The university is looking for additional Big Ideas, the transformative ideas for ways in which the university could make a positive impact on the world. New submissions are sought in the categories of student experience, arts and humanities, innovation and entrepreneurship, environmental and planetary health, and equity, inclusion and social justice. [ More… ]
UC Davis is now one of only three U.S. universities in Universitas 21, an international network of research-intensive universities committed to internationalization and multinational collaboration. [ More… ]
Is Stebbins Cold Canyon Natural Reserve open or closed to hikers? It's not that simple. Staff there are taking a broader view toward educating hikers, emphasizing that now is not a safe time to visit. [ More… ]
A dramatic change in clarity, a study to characterize the nearshore and its impacts on algae, climate change indications, forest health and restoration, and an upcoming comparative study between Lake Tahoe and Lake Geneva — all are highlighted in the UC Davis Tahoe Environmental Research Center's annual report. [ More… ]
If this trait — found in an indigenous Mexican variety of corn — can be bred into conventional varieties of corn, it could reduce the need for added fertilizer and increase yields in regions with poor soil, according to a multidisciplinary research team that included UC Davis scientists. [ More… ]
"Our commitment to supporting innovative faculty, students and staff … is accelerating societal benefit and regional economic impact through a robust pipeline of university spinoffs," says Dushyant Pathak, associate vice chancellor of research and executive director of UC Davis Venture Catalyst. [ More… ]
Preorders are being taken through Monday (Aug. 13) for the 2018-19 campus poster calendar — the Instagram edition! Plus …
Governor appoints 4 to Board of Regents
Volunteers needed for multi-casualty drill
Unitrans implements route, fare changes
Timing on merit raises for nonrepresented staff
MyBill: New payment options, fee structure
Aggie Athletics on radio, online, in print
See your photo on calendars all across campus. … Members of the men's basketball team ride in style. … Listen to the program director of our winemaking certificate program explain the "science and art" of winemaking. [ More, with video… ]
In affiliation with the Global Climate Action Summit in San Francisco, the UC Davis One Health Institute is co-presenting a daylong symposium, "Managing Lands in a Changing Climate to Improve Agricultural Resiliency, Food Security and Health," on the Davis campus (Sept. 10), and other institutes are hosting programs in San Francisco on key topics related to climate, energy, transportation and public policy (Sept. 11-12). [ More… ]
Next week's systemwide conference, hosted by UC Davis, is sold out — but the keynote addresses are open to all, free of charge. Both are set for 10 a.m. in Jackson Hall at the Mondavi Center for the Performing Arts. [ More… ]
Tuesday, Aug. 14 — Diane Bryant '85, until recently the chief operating officer of Google Cloud, and a former Intel executive.
Wednesday, Aug. 15 — "Sustainable IT," by Andrew Isaacs, a UC Berkeley professor with years of experience in Silicon Valley tech and business innovation.
MORE COLLOQUIA
ANNOUNCEMENTS
Road closure — Tercero Hall Circle is closed to all through traffic (vehicular and bicycle) through Sept. 17 for construction activities related to the Tercero Dining Commons 2 project.
Active Aggies Mobile is staying active all summer long, and a new, four-part series of Gentle Lunchtime Yoga is scheduled to begin Aug. 30. Also keep in mind a pair of mindfulness programs. Plus, Breastfeeding Week/Month continues. [ More… ]
2 weeks of Editor's Picks from the online calendar: