Spotlight on…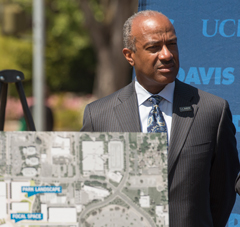 Aggie Square will be developed at UC Davis Health, but the project will not be limited to the health enterprise. The Aggie Square campus will be for all kinds of technology and innovation, a generator of ideas as well as economic growth in the community, as announced by Chancellor Gary S. May and Sacramento Mayor Darrell Steinberg and others last week. [ More, with video… ]

Picnic Day
Saturday, April 21
Where the Sun Shines
Forecast: Sunny,
high temperature 80°
Give Day
Friday-Saturday,
April 20-21
Every Aggie Counts
Forecast: Sunny,
record high philanthropy
NEWS SUMMARY
Re-envisioned center is seeking campus and community input while developing a strategic plan and creating networks for greater impact at UC Davis and beyond. The center's first events will be Food for Thought Showcases May 7 and June 4. [ More… ]
Here are your Academic Senate award recipients for Distinguished Scholarly Public Service and Distinguished Teaching, and your Academic Federation award recipients for Excellence in Research, Excellence in Graduate and Professional Teaching, and Distinguished Service. [ More… ]
There could have been no better place for Carlito Lebrilla's research to thrive than UC Davis. He's the winner of the Academic Senate's Faculty Distinguished Research Award, formerly the Faculty Research Lecture award. [ More… ]
Intercollegiate Athletics announces beach volleyball and equestrian as our 15th and 16th women's teams, another example of the university's history of leadership in women's athletics and its commitment to Title IX. [ More… ]
"We've put a lot of work into planning how UC Davis will grow and thrive into the future and we're looking forward to getting feedback from the community," says Matt Dulcich, director of environmental planning, upon the release of our updated Long Range Development Plan and draft environmental impact report. [ More… ]
Graduate students have begun field tests on very rare commodities: high-yield, disease-resistant bean varieties that can thrive on organic farms. [ More… ]
The island of wetland plants, created by Learning by Leading Waterway Stewardship interns, is meant to improve water quality, wildlife habitat and aesthetic appeal in the western half of the Arboretum Waterway. [ More… ]
Vacant storefronts in the Memorial Union's east wing will soon be filled with student essentials: the Aggie Compass Basic Needs Center, and satellite locations for the ASUCD Pantry and the Student Disability Services Center. [ More… ]
The "Large Lecture Hall" under construction on California Avenue has been given a real name: California Hall. The nearly 600-seat hall is due to open in winter quarter. Plus …
'Pay It Forward' for pizza and prizes
Team Center going up at Schaal pool
'Incredible results' in blood drive
Learn about the language rule that crosses barriers of culture and species. … The UC Davis Fire Department is hiring. … A new food truck brings more international flavor to campus. … The water polo team prepares for a "good day." [ More, with video… ]
The Conversation: 1 off campus, 1 on campus
The UC Davis Humanities Institute sponsors this new series featuring faculty experts. The Conversation is usually held off campus, but one of these is on campus … and called The Campus Conversation.
"Good Food/Bad Food: The Science and Culture of Eating" with Charlotte Biltekoff (American studies, and food science and technology) and J. Bruce German (food science and technology). 5:30 p.m. Wednesday, April 18, Odd Fellows Hall, Davis.
"Guns and America After Parkland," with Amy Barnhorst (psychiatry), Alan Brownstein (law), Bob Faris (sociology), Justin LeRoy (history), Kathy Olmsted (history) and Garen Wintemute (emergency medicine). Noon-2 p.m. Thursday, April 26, Conference Center.
MORE FEATURED COLLOQUIA
ANNOUNCEMENTS
Note to faculty, staff and retirees: As you peruse the Mondavi Center's recently announced season (including Joan Baez and Maria Callas), keep in mind there is a simpler discount in place: a flat 25 percent discount on all subscriptions — regular series and choose-your-own packages — and all add-on shows. [ More, including highlights of the new season… ]
Editor's Picks from the online calendar:
Faculty and Staff Day at Aggie Baseball Game
Friday, April 20: Free tickets! Claim them in advance (two per person).
Healthy UC Davis
Tuesday, April 24: "Stigma-Free UC" webinar on the topic of "Mass Shootings, Firearms and the Mental Health System," presented by Amy Barnhorst, assistant clinical professor, UC Davis.
Mondays, April 30, and May 7 and 14: Midday Mindfulness Meditation, open to all experience levels.
Cooking Class: Spring Brunch
Saturday, April 28: First you cook, then you eat! Five spaces left in this fundraiser for the Food Science Graduate Student Association.