Spotlight on…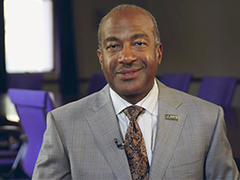 Chancellor Gary S. May launches UC Davis' "To Boldly Go" strategic planning process: "I'm asking the collective community to come together and contribute creative and bold ideas that will propel us to accomplish things we've only dreamed of in the past." See how you can participate, and subscribe for weekly updates. [ More, with video… ]
NEWS SUMMARY
About 175 faculty and others have expressed willingness to host displaced graduate students and faculty from the University of Puerto Rico for the fall, winter and/or spring quarters, in the wake of Hurricane Maria's devastating blow to the island. [ More… ]
Alumna slain in Las Vegas remembered for her drive, friendliness and compassion. "When she spoke with you, she made you feel like you'd known her for 100 years," says one of her sisters. "She just had that gift." [ More… ]
This national organization, and its conference, embody much of what UC Davis has long embraced: interdisciplinary cooperation that is transformed into community action. [ More, with video… ]
Everyone's invited to an outdoor reception Monday (Oct. 16) at the lab's demonstration center, to see how UC Davis research helps reduce poverty and nourish the world. [ More… ]
Christopher M. Dewees, marine fisheries specialist emeritus, combines his career and recent stories and poems, with his 50 years of Japanese fish printing ("gyotaku"), in a volume that he says should be of interest to scientists as well as artists. … Richard Kim, associate professor, edits the prison memoirs of Chol Soo Lee, and Professor Travis Bradley co-edits Fonología generativa contemporánea de la lengua española (or, in English, Contemporary Generative Phonology of the Spanish Language). [ More… ]
Malcolm North leads study that finds the endangered owl may not need as much forest canopy as previously thought, thus allowing foresters to reduce tree density through fire and thinning. [ More… ]
The UC Davis Quarter Century Club will soon welcome 160 staff and faculty members into the club and honor 114 others who have reached the 50-year mark. They will be feted at the club's 78th annual gathering, a dinner event that will feature remarks by Chancellor Gary S. May. [ More… ]
A survey is coming this week to all faculty, staff and students, asking for our opinions on UC Davis' Smoke and Tobacco Free policy. Plus we have news about free flu shots and the first Well-Being Ticket Deal of the year, and "gatekeeper training" for faculty and staff to help them assist students with mental health concerns. [ More… ]
The campus surplus store returned $214,000 to departments and units last year, but finding the right buyers for some of the university's eclectic mix of surplus property is no easy task. So, Aggie Surplus is now working with GovDeals, an online auction site, to reach a bigger audience, especially for big-ticket specialty items — like, for example, a firetruck and a football scoreboard. [ More… ]
A news conference is scheduled for 2 p.m. Friday (Oct. 13) to "announce the next major step in the UC Davis School of Veterinary Medicine's story." Plus …
Police board to hold public meetings
Duty calls on front lines and at home
Banner project will impact some services
Save the date: Oct. 27 deadline for free calendars
UCnet: Understanding benefits for domestic partners
See what Hillary Clinton talked about Monday night at the Mondavi Center, the sole California stop on her book tour. … Take a live tour of UC Davis' entry in the U.S. Department of Energy Solar Decathlon. … Want to be an egg taste-tester? [ More, with video… ]
SYMPOSIA
3 not to miss: Disability Awareness, Accessible Technology, Scholarly Publishing
ANNOUNCEMENTS
The new Marya Welch Initiative for Women's Athletics will host an indoor tailgate before the Aggie volleyball match against UC Santa Barbara next Tuesday, Oct. 17. [ More, with video… ]
Editor's Picks from the online calendar:
MFA Open Studios
Friday, Oct. 13: See art in the making and catch a performance.
Bicycle Auction
Saturday, Oct. 14: Viewing, 7:30 a.m.; auction starts at 9 in the Pavilion Parking Structure.
Concert: Amrinder Gill
Saturday, Oct. 14: One of the most recognizable voices in Punjabi music.