Spotlight on…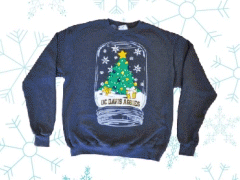 License plate frames, umbrellas, skateboards, olive oil soap (and olive oil, too!), flip-flops, dog bowls, ornaments, stuffed animals, "ugly" holiday sweaters and so much more — find the perfect gift for every Aggie on your list! [ More… ]
At UC Davis Stores:
NEWS SUMMARY
Fifteen faculty members have new status in the American Association for the Advancement of Science, earning honors bestowed upon them by their peers. [ More… ]
First we added a food truck area and transformed the interior of the Silo. Now comes the Silo Market in the South Silo, opening Tuesday (Nov. 28), offering made-to-order pizza and sandwiches. [ More… ]
Our student writer gives her perspective of this breakfast and lunch place, where the menu the day of her visit included spinach and artichoke pasta bake, along with savory burgers and oven-fresh pizza. [ More… ]
UC Davis' Ann E. Pitzer Center makes the Sacramento Business Journal's list of "Best Real Estate Projects" for 2017. … Professor John Owens is named a distinguished member of the Association for Computing Machinery; and five other faculty members and a senior staff researcher are the inaugural fellows of the John Muir Institute of the Environment. [ More… ]
RESEARCH: Breakthroughs in wheat genomics
One team's discovery will help breeders more quickly develop wheat varieties that can fend off a new devastating strain of stem rust that is threatening food security worldwide, while another team's work offers hope for decoding the bread wheat genome, long considered an almost insurmountable task, because of the genome's enormous size and complexity. Plus …
The Holiday Food Drive comes to a close (and we've got the very impressive grand total for you), and the Toys for Tots collection begins, both brought to you by Mail Services for the benefit of Yolo County families. … Veterinary Medical Teaching Hospital staff and retirees are again raising funds for Mercer Clinic Holiday Gift Baskets and coats and sweaters for pets belonging to homeless people in Sacramento. [ More… ]
Kalindi Vora joins UC Davis as an associate professor in the Gender, Sexuality and Women's Studies Program. … Dana Hinojosa is appointed associate ombuds. … Kelly Ratliff of Finance, Operations and Administration names interim leaders for Design and Construction Management, Accounting and Financial Services, and the Shared Services Center. [ More… ]
New this year: Faculty and staff can swipe credit cards, or give cash or Aggie Cash at all Student Housing and Dining Services-operated retail locations, to help keep our students fed. The campaign aims to raise $10,000 by Nov. 30. Plus …
Foundation and Corporate Giving says, 'Let us help'
Police offer Community and Cadet academies
'Sun Shines' on Picnic Day and marshals
Registration open for Mini Medical School
See how a student balances the demands of the viticulture and enology major with playing on the football team. … The men's water polo team is headed to the NCAA tournament. … Trade creations at the Craft Center on Dec. 8. [ More, with video… ]
ANNOUNCEMENTS
Call for nominations for the Chancellor's Achievement Awards for Diversity and Community — Honoring UC Davis faculty, staff and students, and local community members. Deadline: Nov. 27.
Call for nominations for Academic Senate awards — Faculty Distinguished Research Award (formerly the Faculty Research Lecture Award), deadline Dec. 1; Distinguished Scholarly Public Service Awards, deadline Dec. 8; and Distinguished Teaching Awards, deadline Dec. 20.
Call for proposals for Seed Grants for International Activities — Faculty members are invited to apply for funding of $5,000 to $15,000 per proposal. The Office of Global Affairs encourages proposals that foster international research collaborations, create innovations in internationalizing the curriculum, and build new interdisciplinary, international partnerships. Deadline: Nov. 30.
Editor's Picks from the online calendar: