Spotlight on…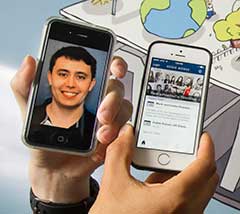 UC Davis has a new official mobile app! Born as Aggie Mobile, the app impressed campus leaders so much that they arranged to have it take the name UC Davis Mobile. The ASUCD's Creative Media team developed the app, "by students for students," but it's also very helpful for faculty, staff and visitors, with features that include maps and real-time Unitrans schedules. It's available for free for iOS and Android devices. [ More… ]
NEWS SUMMARY
UC President Janet Napolitano's new Global Climate Leadership Council includes two members from UC Davis: Professor Michael Siminovitch, director and co-founder of the California Lighting Technology Center; and Elaine Swiedler, who will be a fourth-year student in the fall, with a double major in environmental policy analysis and planning, and economics. [ More… ]
"Creating Our Future Today" is the theme for this year's California Higher Education Sustainability Conference, which began Monday and continues all week. Two UC Davis representatives -- David Phillips, director of Utilities; and Camille Kirk, assistant director of sustainability -- were due to participate on a panel dealing with campus water action plans. And UC Davis will receive three Energy Efficiency and Sustainability Best Practice Awards, as previously announced. [ More… ]
In Rwanda, the expression "have milk" -- "gira amata" -- is not part of a milk-mustachioed marketing campaign. It's a wish for prosperity. UC Davis scientists hope to make that wish come true in the small African nation, by improving dairy cows' health and productivity -- and thereby people's health, too. [ More, with slideshow… ]
UC Davis Comprehensive Cancer Center patients will soon be part of an unprecedented clinical trial designed to improve access to promising therapies and speed development of effective treatments for an advanced form of lung cancer, the leading cancer killer of both men and women. [ More… ]
Sheridan Miyamoto, a forensic nurse practitioner and research nurse at the Betty Irene Moore School of Nursing, is first author on a paper showing how expert UC Davis nurses, by way of telemedicine, can assist rural clinicians in performing more thorough and nuanced forensic examinations in cases of alleged sex abuse. … Miyamoto was among eight students in the School of Nursing's first class of Ph.D. graduates, on June 12. [ More… ]
Based on the results of a small, preliminary study, Garen Wintemute, professor of emergency medicine and director of the Violence Prevention Research Program, says, "We need to consider the merits of prohibiting people convicted of violent misdemeanors from purchasing handguns and consider whether felony charges should be reduced less often." [ More… ]
Chancellor's awards go to students and mentors: design professor Susan Avila, faculty adviser for the annual Picnic Day Fashion Show; and JoAnne Engebrecht, professor of cellular and molecular biology, whose lab is typically home to five or six undergraduate researchers. [ More… ]
The Association of International Education Administrators recognizes Vice Provost William B. Lacy for "extraordinary commitment" to the association, while the Institute of International Education says of Wesley Young, director of Services for International Students and Scholars: "We know we can always count on Wes to be there for the exchange visitors." … Dean Keith Simonton, distinguished professor of psychology, receives an award from the American Psychological Association. … Husband-and-wife alums Robert "Bob" and Kinzie Murphy receive the Charles J. Soderquist Award — the UC Davis Foundation Board of Trustees' highest honor for volunteer service to the university. [ More… ]
The California Department of Transportation isn't confirming the date, but the "Fix 50" contractor has said he will finish the project this Thursday (June 19). [ Plus… ]
Workshop: Making Collaboration Work
Top rankings for children's hospital
In case you missed it: UCRP contributions to rise
Contest receives 166 entries -- and your "likes" determine the winners. See the results, and read how the fourth-place winner got his wish! [ More… ]
ANNOUNCEMENTS
UC Davis Signature Research in Genomics Program — Offering seed funding for projects that require use of high throughput DNA sequencing to address grand-challenge problems in agricultural, environmental and health sciences. (June 18 application deadline)
Memorial Union Terminal reconstruction — The terminal is closed all summer; Howard Way is open only to the north entry parking garage; no access from Howard Way to Tennis Court Lane; and no through traffic on Tennis Court Lane from California Avenue to Howard Way. (See last week's Dateline story.)
Dairy Road closures, June 17-20 and June 25-27 — For utility work and deliveries associated with the construction of the field hockey stadium across from the Tercero student housing complex.
Friday, June 20, 5:30-7 p.m., Häagen-Dazs Honey Bee Haven
The haven's second open house in a month comes amid National Pollinator Week. Talk with experts about bees and bee gardens, and take a home a free pack of zinnia seeds (while the supply lasts). [ More… ]
Monday, June 23, C.N. Gorman Museum, Hart Hall
Works by 74 artists who were affiliated with the Printmaking Department of the School of the Art Institute, later known as The Art Institute of Chicago. The exhibition runs through Sept. 12. [ More… ]
Monday, June 23, 7-9 p.m., lawn outside the Rec Pool
Take a swim, if you like, then stay for the free music every other Monday through Aug. 18. [ More… ]
Wednesday-Thursday, June 25-26, 10:30 a.m.-5 p.m., bloodmobiles on the Quad
Every participant will receive a $5 Togo's card and MyBloodSource reward points. [ More… ]
Wednesday, June 25, noon-1 p.m., Shared Services Center
Not a musical band, but a figure-8 band for exercise! This brown bag will be off campus, in Suite 150 at 260 Cousteau Place. Loaner bands available. [ More… ]
Wednesday, June 25, 5-7 p.m., Conference Center Ballroom
Honoring all staff and faculty who have retired, or will retire, during the 2013-14 academic year. Online registration has closed, but you have until Wednesday (June 18) to sign up by telephone, (530) 752-5182. The reception, with hors d'oeuvres and entertainment, is sponsored by the Retiree Center, the Retirees Association and the Emeriti Association. [ More… ]
Thursday, June 26, noon-1 p.m., multipurpose room, Student Community Center
For 4,000 years, tea has been used as alternative medicine to maintain a healthier body in China. Now, tea is the most popular beverage in the world, after water. What's the charm? And what can you do with your Chinese tea at home? Join Danna Cao for this program, taste some tea -- and find the answers! [ More… ]
Nelson Gallery and Pence Gallery
Works by graduate students in studio art. Eight M.F.A. candidates have assembled for future reference, continuing through June 21 at the Nelson; while first-year M.F.A. students have assembled Dumpstr Dive, running through June 24 at the Pence in downtown Davis. [ More… ]
Through June 30, Buehler Alumni Center
Students present their Science and Society 40 final projects -- 50 photographs exploring the conceptual connections between art and science and the role of art and science on the UC Davis campus. Terry Nathan, professor, Department of Land, Air and Water Resources, teaches SAS 40 as part of the Art-Science Fusion Program. [ More… ]
Fall, Mondavi Center for the Performing Arts
The UC Davis family gets a head start on tickets for two new shows: Offerman (TV's "Parks and Recreation"), presents "Full Bush" (Oct. 4); and Birbiglia, comedian, author and filmmaker, presents "Thank God for Jokes." Tickets are not available online during this special presale (running through June 19); you must go to the box office or call (530) 754-2787. [ More… ]